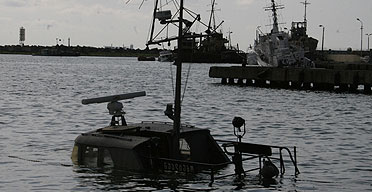 Georgian coast guard patrol vessel sunk in Poti. Photo: Nestan Tsetskhladze/Batumelebi newspaper


Russian forces again seized the Georgian coast guard base in Poti this morning, the Georgian Border Police, said on August 15.

It said 23 Ural trucks of the Russian forces and two armored vehicles were deployed on the base territory. Two Russian army helicopters have also landed there, the Georgia Border Police, said.

The Russian forces entered in and then pulled back from Poti for several times in last several days.