Russian MFA spokesman says:
• No exact time for withdrawal;
• 'Security operation' ongoing;
• Ammo depots are being 'neutralized'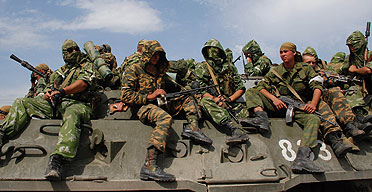 Russian soldiers on an armored carrier outside Gori, August 15. Photo: InterPressNews
Russian President, Dmitry Medvedev, signed a six-point ceasefire agreement on August 16, Interfax news agency reported.
Russian Foreign Ministry spokesman, Andrei Nesterenko, said shortly before the news broke, that no exact time of launch of Russian forces pull out was yet known.
Russia will start pulling its forces back from the territory on Georgia proper as soon as "huge depots" of ammunition left by the Georgian army is "neutralized," he said.
Speaking live from Moscow with CNN, Andrei Nesterenko, the MFA spokesman, said French President Nikola Sarkozy phoned his Russian counterpart late on August 15 and informed that President Saakashvili had signed the ceasefire agreement.
"President Medvedev's reaction was very positive [on that news] and I hope today it will be signed [by the Russian side]," Nesterenko said. "Russia is going to complete all the obligations, which are pending on this document."
He, however, said he could not give an exact time when President Medvedev would sign it, or when the Russian troops would start pulling back from the territories occupied deep inside Georgia.
But he also said that the Russian forces are still continuing, what he called was, "a security operation."
"They are neutralizing all those huge depots of ammunition and military equipment, which have been left by the Georgian army," Nesterenko said. "There are lots of booby-traps installed in some of the houses, so it needs to be totally neutralized and after the operation is completed the troops will go the Russian soil."
He, however, also reiterated the provision of the six-point ceasefire agreement that part of the troops will remain in the South Ossetian conflict zone to perform peacekeeping operations, as it was prior to the resumption of hostilities.
The Russian Foreign Ministry official also emphasized that the treaty obliges Georgia to bring all of its forces back to their places of permanent location.
"What we need to be sure today is fulfillment of obligations by Georgia," he added.