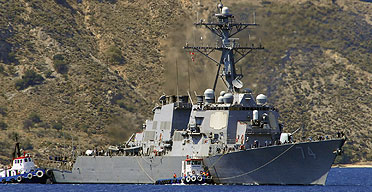 USS McFaul (DDG 74). Photo: U.S. Department of Defense


Two U.S. Navy ships, including a guided missile destroyer USS McFaul, and a U.S. Coast Guard cutter are getting underway to transport humanitarian assistance supplies to Georgia, U.S. European Command (EUCOM) said on August 21.

It said USS McFaul (DDG 74) departed from Souda Bay, Crete, on Wednesday and the cutter Dallas (WHEC 716) will depart later this week.

McFaul and Dallas are scheduled to transit into the Black Sea and arrive in Georgia within a week, according to the U.S. European Command.

The announcement comes after it was reported that Turkey gave its go-ahead to sail through its straits into the Black Sea.

"The ships will transport thousands of blankets, hygiene items, baby food and infant supplies to save lives and alleviate human suffering," U.S. European Command said.

The Associated Press reported quoting unnamed U.S. official in Turkey that USS Mount Whitney would be among those three vessels expected to arrive in Georgia.

Anatoly Nogovitsin, deputy chief of the general staff of the Russian armed forces, said at a news conference in Moscow on August 21, that the Russia's Black Sea fleet continued "providing security regime for maritime in the eastern part of the Black Sea."

"There is no need to further reinforce it [the fleet]," he added.

Meanwhile, a team of U.S. European Command, led by Army Brig. Gen. John Miller, is already in Tbilisi "to assess the current humanitarian situation and make recommendations on continued humanitarian support to senior military leadership."

"The EUCOM team will conduct a deliberate and focused assessment, encompassing variables such as transportation, infrastructure, manpower and many other life support considerations," the U.S. European Command said.

And on August 21, the head of the U.S. European Command, Gen. John Craddock, who is also NATO's supreme allied commander for Europe, also arrived in Tbilisi.