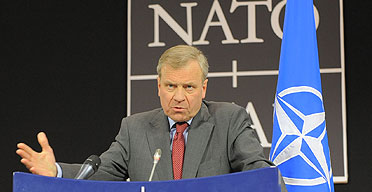 Jaap de Hoop Scheffer: "MAP has not ceased to exist." Photo: NATO


NATO foreign ministers have decided to empower newly set up NATO-Georgia Commission to intensify cooperation between Tbilisi and the alliance, "without prejudice to any further decisions" on Membership Action Plan (MAP).

Speaking at a news conference on December 2 after the first-day of the NATO foreign ministerial meeting in Brussels, NATO Secretary General, Jaap de Hoop Scheffer, said that the alliance has agreed to develop Annual National Programs for Georgia and Ukraine and also added that the decision did not mean that MAP had "evaporated."

"Without prejudice to any further decisions on MAP, we will develop so called Annual National Programs to help them [Georgia and Ukraine] advance their reforms; in other words we are going to beef up NATO-Ukraine Commission; to beef up NATO-Georgia Commission and maximize our assistance [to Georgia and Ukraine]," Scheffer said.

"MAP has not ceased to exist. There was no decision taken on MAP by the foreign ministers; but you can not say that MAP has evaporated; MAP is still there," he added.

Details of Annual National Program are expected to become known after the NATO-Georgia Commission meeting on a foreign ministerial level in Brussels on December 3.

Scheffer also said that the alliance foreign ministers had agreed "all elements" of the decisions regarding Ukraine and Georgia taken by the leaders of NATO member states in Bucharest in April, 2008 "still stand" meaning that they will one day become the alliance's members if they wish and after they meet all NATO standards.

"The train left the station in Bucharest… and that train will move on, it does not stop," he said. "Both countries have made progress, but both have significant work left to do."

"NATO will maximize – strengthen if you wish – its advice and assistance for those reform efforts in the frameworks of NATO-Ukraine Commission and NATO-Georgia Commission," Scheffer said and added that foreign ministers had also decided "to reinforce" the NATO information and liaison offices in Kiev and Tbilisi.

U.S. Secretary of State, Condoleezza Rice, told journalists after the meeting that the foreign ministers "did not take up the issue of a decision on MAP for Ukraine and Georgia."

"A lot has transpired since Bucharest. We reaffirmed Bucharest and all of its elements, but what we did do here, which is very important, is to empower the commissions – the NATO-Georgia Commission and the NATO-Ukraine Commission – to intensify their work in helping these states to make progress toward the Bucharest goals and aspirations... I think that's the new element here. And we're very pleased that that was accepted by the alliance," Rice said.

As far as NATO-Russian relations are concerned, Scheffer said, that foreign ministers had agreed to gradually resume contacts with Russia, suspended after the August war in Georgia.

"Allies agreed on what I would qualify as a conditional and graduated reengagement with Russia," Scheffer said.

He said that NATO-Russia Council would meet "on an informal basis."

"This graduated reengagement certainly does not mean that we do now suddenly agree with Russians on the disproportionate use of force in August in Caucasus; on illegal recognition of Abkhazia and South Ossetia; on the fact that Russians are still taking positions that they should not take in that area… We fundamentally disagree," Scheffer said.