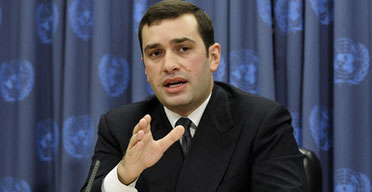 UN Photo/Paulo Filgueiras


Irakli Alasania was born on December 21, 1973 in Batumi

He served as Georgia's Permanent Representative to the United Nations from June, 2006 to December, 2008.

Before becoming the Georgia's UN envoy Alasania had served as the adviser to the President of Georgia on the Abkhaz conflict resolution issues, effective March 17, 2006. He also acted as the President's Special Representative to Georgian-Abkhaz talks (the status, which he retained in his capacity of Georgia's UN envoy).

Alasania was appointed to the position of President's Special Representative for Abkhazia effective February 15, 2005. At that time he also acted as the Head of Government of Abkhazia Autonomous Republic in exile.

Before this assignment Mr. Alasania held the position of the Deputy Secretary of National Security Council effective 16 July 2004. Prior to this assignment Alasania served at the position of the First Deputy Minister of Defense.

Before joining Ministry of Defense, Alasania served as the First Deputy Minister of Sate Security, from January 21, 2002.

During October 2001 – January 2002, Alasania served at the National Security Council as the Head of the Directorate for Security Issues.

From 1998 through September 2001 he served at the Ministry of Foreign Affair's CIS and Russian affairs Directorate.

He also served at the Georgian Embassy to the USA, Canada and Mexico.

Alasania received International Law Degree from the Tbilisi State University in 1995.

He is married and has two children.