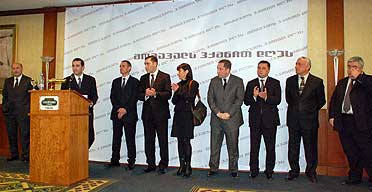 Alasania and his team standing on a background of their slogan: Building the Future Today. Photo: InterPressNews
Irakli Alasania, a former UN envoy-turned-opposition politician, said on February 16, he expected to finalize series of consultations with other opposition parties within a week.
"Probably by the end of this week it become known how, in what forms and on what type of partnership terms my political team will cooperate with other political forces," Alasania said after presenting his team, which he described as "a team of his political co-thinkers."
"Whether I will be the leader of united opposition or not – it will become clear after the consultations are finalized," he said. "But at this stage, I think that is not so important. The most important is to gather political forces around joint interests – and preconditions for that already exist."
Although in December he sounded skeptical about setting up of his, separate political party, on February 16, he said that his current team had a potential to grow into "a political movement, as tens of thousands of people are already willing to join it."
He said he had no ambition "to unilaterally come into power" together with his team. "I think there are people both in the opposition and among the authorities, who are distinguished with their professionalism and patriotism and have enough resources to play a positive role in building our country," Alasania added.
The team, presented by Alasania, includes three former diplomats: Levan Mikeladze, a former ambassador to Switzerland, who stepped down in 2007 in protest against the break up of the November 7 protest rally; Victor Dolidze, who quit the post of ambassador to OSCE this month and Alexi Petriashvili, who until now has served as Georgia's ambassador to Turkmenistan and Afghanistan.
The team also includes lawyer, Shalva Shavgulidze; he is a familiar face for the public as he acted as attorney in number of high-profile court hearings, involving former senior officials and politicians; he also was representing the Girgvliani family in court hearings over the high profile murder case and at one point was one of the legal representatives of late tycoon Badri Patarkatsishvili. In late 2007 he became affiliated with the opposition New Rights Party.
Others in the team are: Giorgi Chikovani, who served in the Abkhaz government-in-exile; Zurab Abashidze, who served as an advisor to the Chairman of Constitutional Court until recently and was Deputy Justice Minister in 2004-2005; Nino Goguadze – she served in the Education Ministry in 2000-2003 and Dimitri Tvildiani, a doctor and founder of Aieti medical school.
During the presentation, which was held in a conference hall packed with journalists and invited guests, mainly politicians from other opposition parties, as well as foreign diplomats, Alasania reiterated the need for holding early presidential and parliamentary elections.
He also laid out in a general form his foreign policy, economic and domestic policy priorities.
On the economy, Alasania said that "new economic vision," based on firm guarantees of property rights and business clusters, should be developed; he also said that the country needed "a long-term economic strategy" as well.
"Unfortunately, in recent years Georgia's economic policy has been deliberately ignoring strategic sectors, strategic facilities and in general the need of economic strategy," he said
On private property issues, he said that setting up of "an independent arbitration" was needed to adjudicate disputes between the private property owners, whose rights have been infringed by the state in recent years.
"[Arbitration body] should restore rights of those, who were forced to 'voluntarily' give up their properties in favor of the authorities," he said.
He also said that "healthy competition" was not possible in Georgia, where "anti-monopoly mechanisms have been deliberately destroyed."
Alasania noted importance of education system and said the system's financing should amount to at least 5% of GDP.
He also said that "restoration of rule of law, as well as of personal and national dignity" was one of the preconditions for building democracy in Georgia and denounced, what he called, "injustice" and "Soviet-type censorship" of the television stations' editorial policy" which he said, was an obstacle for the Georgian population "to objectively perceive" developments in the country.
He said that strengthening of Georgia's defense capacity "should become the top state priority."
"Based on the political and military threats existing in the region Georgia should have a rapid-reaction, mobile professional army, compatible to [the armies of] our international partners, as well as the effective air defense and coast guard systems," he said.
On the foreign policy front, Alasania said that Georgia should not turn into "arena of international confrontation."
"On the contrary, Georgia should be the country of stability and cooperation," he continued. "It can only be achieved through careful, consistent, multilateral and balanced foreign policy strategy."
"We should achieve Georgia's de-occupation and suspension of the country's disintegration through this policy," he said and underlined importance of full implementation of the August 12 ceasefire accord.
He said that Russia's efforts to block international monitors' presence in breakaway regions triggered "the need of direct dialogue with Russia."
Through this dialogue, he said, "we should demonstrate to Russia that its aggressive occupational policy is counterproductive." He also said that Tbilisi should offer Russia "an alternative vision of potential cooperation."
He denounced "militarist rhetoric," which he said prevailed in recent years, and said that Tbilisi should instead focus on cooperation in economic, humanitarian, educational, healthcare and cultural fields with the breakaway regions.
"We should understand that there is no quick, military solution to these conflicts," he said. "Our strategy should be based on direct contacts, direct dialogue, confidence building and reconciliation with the Abkhazians and the Ossetians. We should certainly take into consideration their security concerns, as well as concerns related to their national identity."
On NATO and European Union he said: "The government's reckless steps [in August] have hit a serous blow to the process of Georgia's NATO integration. The EU's new neighborhood initiatives should be used meaningfully for final integration of our country into European structures."
Alasania said that Georgia's "strategic alliance" with the United States would be "comprehensive" and based on the two countries' political, regional and energy security interests.