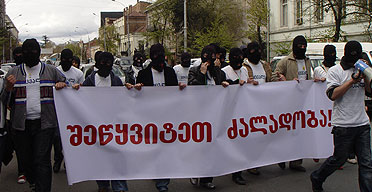 Pro-opposition youth activists march holding banner reading: Stop Violance. Photo: InterPressNews
Opposition warned it would resort to self-defense "with bare hands" to protect its activists and supporters from attacks.
Reports of isolated cases of attacks on opposition supporters and activists have been coming almost every day from the very first day of start of protest rallies on April 9.

All these cases seem to have mainly similar patterns with group of men, in some cases in masks, attacking participants of rallies, mainly during the night time, not immediately on the protest venues, but mainly on the nearby streets.
Public Defender, Sozar Subari, said in a statement on April 16, that his office had studied "dozens" of cases of attacks on opposition activists and supporters and "concluded that the Interior Ministry has been turning a blind eye" to those cases. He also claimed that in some instances attacks were witnessed by the municipal police officers, but they did not intervene.

"The Public Defender thinks that the situation is extraordinary; this practice of beating up of citizens amounts to playing with fire and instead of fostering a dialogue, it only further increases tensions," the statement reads.
On the same day, leaders from the opposition Alliance for Georgia and Levan Gachechiladze, an individual opposition politician, convened a joint press conference and called on the police to provide public order in and around the protest venues.
Irakli Alasania, the leader of Alliance for Georgia, said "machinery of terror and violence" was put into operation.
"Dozens of our supporters have been victims of violence. It is being done by criminal gangs, which are orchestrated by the authorities," he said. "If the law enforcement agencies fail to perform their duties in providing order and in fighting against crime, then we, the society will start providing self-defense."

"This is a warning statement by us towards the authorities. We have the constitutional right to hold peaceful rallies and also have the right on self-defense if the authorities refuse to protect its citizens."

"All the criminal acts committed against the participants of peaceful demonstration will be responded. We plan self-defense with our own bare hands; we will organize measures to provide security of participants of the peaceful demonstrators," Alasania added.
Davit Gamkrelidze, leader of New Rights Party, part of the Alliance for Georgia, said that the opposition's ongoing protests "have been peaceful and in frames of law."
"We have not violated any law and there has been not a single case of valance on the side of the protesters. But the authorities' response was terror and attacks carried out by criminal gangs and mobs organized by the authorities," he said.
"Civil confrontation starts when line between criminals and law enforcement agencies vanishes," Levan Gachechiladze said. "The authorities will bear full responsibility if they erase this line. The civil confrontation is not good for the country, but we will do utmost to protect ourselves and to protect citizens. Saakashvili is unable to protect Georgian citizens, because he is incapable, so we will do that."
Also on April 16, Gia Karkarashvili, who was a commander of the Georgian armed forces during the Abkhaz war in early 90s, convened a separate press conference and warned he and his allies would set up "self-defense committees" to fill the policing vacuum in and around the protest venues.
Karkarashvili, who is now affiliated with the Irakli Alasania's political team, said: "I call on the authorities to disband these criminal gangs; I urge police leadership to provide public order, otherwise if attacks on citizens continue within twenty four hours, I will announce mobilization of patriot people and create self-defense committees for protection of peaceful protesters."

Karkarashvili invited representatives of Public Defender's Office, as well as journalists to accompany patrols of "self-defense committees" if such were created.
Earlier on April 16, EU Special Representative, Peter Semneby, told journalists in Tbilisi that he had information about cases of attacks on opposition activists and supporters "from various sources."
"Whether it is directly related to the political confrontation or whether it is a sign of increasing criminality, because the police have been absent, they have been busy with other things – I don't really know. Nevertheless, cases of this kind are extremely serious and they need to be investigated; and one also needs to look into how cases of this kind can be prevented," Semneby said.
After the April 11 late night incident at the protest venue outside the Parliament, the Interior Ministry said that it did not dispatch police unit on the incident site in order to prevent possible confrontation between policemen and protesters. This tactic of staying away from protests continued in following days as well, with uniformed police having no presence on the protest venues and low presence around those venues. According to the Interior Ministry it was probing to each and every reported case of attack or incident.