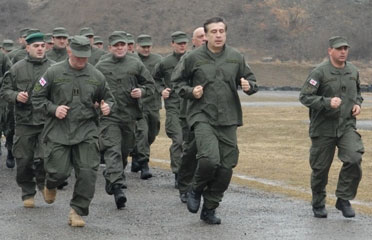 President Saakashvili running along with MoD's special purpose troops during a workout at a military base on March 2. Photo: Georgian MoD.
Despite loss of life among Georgian troops in Afghanistan, Georgia should not give up its contribution to the coalition forces, President Saakashvili said while visiting a base of MoD's special purpose unit on March 2.

"It is an honor to be in service of the homeland together with you," said Saakashvili, sitting alongside with soldiers in an army base canteen.
Saakashvili's five-year old son, who like his father was dressed in a military uniform, was sitting next to him.
"I never stop thinking and caring about our armed force and helping it as much as possible. You should know that our country knows that it can pin hope on you," Saakashvili told soldiers.

"We suffered losses in Afghanistan… But we should understand that for the armed forces all these losses should serve as a source for further strengthening… We should not flinch and we should in no way give it up; our cause is just and we all know that," he said.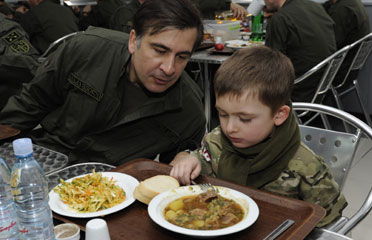 President Saakashvili and his five-year old son, Nikoloz, at the army base canteen, March 2. Photo: InterPressNews
Georgia has 950 troops in Afghanistan with most of them deployed in the Helmand province. Six Georgian soldiers were killed, all of them in Helmand, since joining the NATO-led operation in November, 2009. The most recent fatality was reported on February 22. On the same day the Georgian Parliament approved a proposal to send to Afghanistan a team of 11 Georgian artillery instructors to train the Afghan military.

In a February, 2010 classified diplomatic dispatch from series of leaked U.S. embassy cables, published by WikiLeaks, U.S. ambassador to Georgia, John Bass, writes, that "Georgians see their contributions to Afghanistan as a down payment on their admission into NATO."

"Georgia continues to be a strong supporter of NATO operations and is a contributor to international security missions, including in particular ISAF in Afghanistan. The challenge is to express our appreciation for those efforts, but deliver the candid message that such contributions are a helpful, but insufficient step toward membership without the concomitant progress on the civilian side," the cable reads.

In the cable the U.S. ambassador provides overview of political situation in Georgia ahead of visit to Georgia by Richard Holbrooke. Holbrooke, who died in December, visited Georgia on February 21-22, 2010 in his capacity of the U.S. special representative for Afghanistan and Pakistan.

"Our challenge is to convince President Saakashvili that he risks losing the enormous goodwill generated by Georgia's extraordinary contributions in Afghanistan if he fails to combine them with a new push to deepen Georgia's democratic development," the U.S. ambassador writes in the cable.