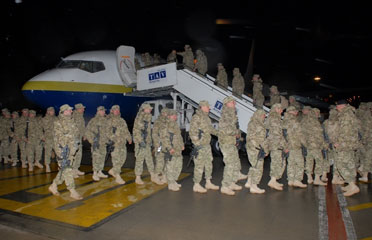 A group of 94 soldiers from the 33rd light infantry battalion departing to Afghanistan. Photo: Georgian MoD
Georgia started rotation of its 32nd battalion of the 3rd infantry brigade deployed in the Helmand province of Afghanistan with the 33rd battalion, the Georgian Ministry of Defense said on April 12.
749 servicemen from the 33rd battalion, which were trained by the U.S. marines, will be gradually deployed in Helmand within next two weeks, according to MoD.
32nd battalion, which is in Helmand since November 2010, lost two soldiers in action. Total of seven Georgian soldiers have been killed in Afghanistan, all in Helmand, since November, 2009 when Georgia joined ISAF.