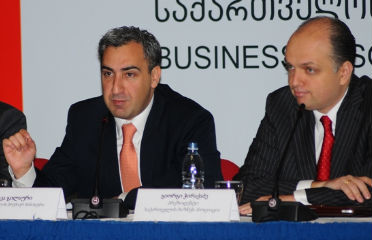 PM Nika Gilauri (left) and President of Business Association of Georgian (BAG) and CEO of IT company, UGT, Giorgi Chirakadze, April 13.
In an attempt "to resolve any problem, which a business may have in relation with the Revenue Service," the government is planning to outsource tax audit, PM Nika Gilauri said on April 13.
Speaking at a meeting with a group of businessmen, he said that a company would be able to hire a private audit provider to avoid being audited by the Finance Ministry's Revenue Service.
"It used to be said that tax [inspection service] comes in [businesses], seals up operations, creates problems and because of [audit process] by tax [inspection] sales are reduced," MP Gilauri said, adding that with outsourcing of the tax audit, such problems "will totally be eradicated."
"If a company wishes, it can be audited by a private audit or consultancy firms and an audit act provided by these audit firms will be considered as equal to an audit act provided by the Revenue Service," PM Gilauri said.
Tax audit services will be provided by firms licensed by the Revenue Service, he said and vowed that the government would not fix prices for such services provided by the private audit companies.
"There will be several such audit providers and the market itself will determine the price of this service," PM Gilauri said.
He also said that at the first stage, which may last three or six months, it would be a pilot project.
The Prime Minister said that in order to encourage companies to use this service, the government was also offering to exempt companies from fines incurred from possible violations in case a company chooses to use a service by a private audit provider. But fines will be imposed if violations are found as a result of an audit carried out by the Revenue Service, PM Gilauri said.