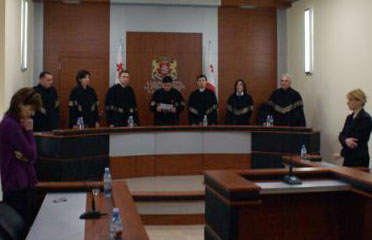 Judges from the Batumi-based Constitutional Court announce judgment into controversial amendments to the law on rallies on April 18.
The Constitutional Court of Georgia ruled some of the provisions in the law on rallies and manifestations unconstitutional on April 18.
The court's panel of nine judges, however, rejected some of the complaints by applicants, leaving several disputed provisions of the law in force.
In July 2009 the majority-led Parliament passed amendments to the law on rallies and manifestation tightening the rules for demonstrations amid opposition's street protest rallies in Tbilisi. After those amendments, a lawsuit was filed separately by opposition parties (Movement for United Georgia and Conservative Party), as well as the Public Defender, legal advocacy group the Georgian Young Lawyers Association (GYLA) in addition to two private citizens. Participants argued jointly that the new provisions in the law were unconstitutional.
The Constitutional Court said that the provision banning outright rallies within a 20-meter radius from the entrance of state buildings and courts was unconstitutional. The court, however, also said that this right "can be restricted" when a rally within a 20-meter radius hampers normal functioning of an institution or when the restriction is deemed necessary due to security measures.
Also ruled unconstitutional was a provision according to which a rally should be immediately ceased in case of violation of the rules on holding demonstrations. The court said protesters "should be given an opportunity to bring a rally (manifestation) in line with the requirements of the law. The rally can only be ceased in case of disobeying legal demands of a representative of the authorities."
The court deemed unconstitutional a provision that limited parties eligible for submitting notifications of intent to convene rallies to groups of individuals. The court said the same right should be given to an individual, single person as well. Further, the court ruled that a stateless person should also enjoy the right to act as an organizer of the rally.

The court, however, upheld as constitutional the provision banning willful blocking of traffic or barricading streets with various constructions. It also upheld the provision according to which protesters may block a street only if the number of protesters is large enough and holding of the rally requires additional space in traffic lanes.
The court also said the provision banning the creation of graffiti on the walls of administrative buildings and surrounding properties was in line with the constitution.
Upheld also was a provision which bans the holding of a rally outside the house of a judge, saying that such restriction guarantees "the independence of a judge (court) and protection of a judge's privacy."
The court also ruled that employees of the Finance Ministry's investigations unit should remain in the list of those state employees who have no right to participate in or organize demonstrations.

Public Defender Giorgi Tugushi, said that, although the complaint was only partially supported by the Constitutional Court, the ruling overall was a positive development.