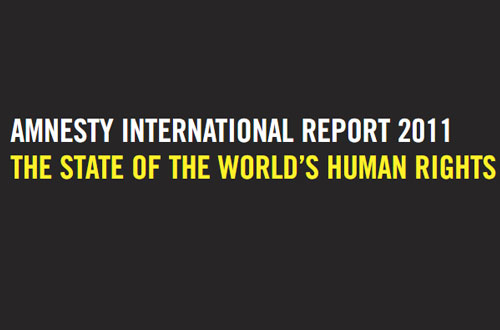 The rights group's annual report documents human rights abuses around the world.
Rights of internally displaced persons, failure to investigate attacks on protesters, situation in and around the conflict regions are among the issues highlighted in the part of Amnesty International's annual report which deals with Georgia.
"None of the sides to the 2008 conflict between Russia and Georgia conducted comprehensive investigations, in spite of a report by an international fact-finding mission commissioned by the EU the following year which confirmed that violations of international human rights and humanitarian law had been committed by Georgian, Russian and South Ossetian forces," the report reads.
The rights group's report notes about the failure by the Georgian authorities "to effectively investigate" the fate of three Ossetian men, who disappeared in October, 2008. The report also notes about the attack on civil society activist, Timur Tskhovrebov, in Tskhinvali in July, 2010.
According to the report, despite some progress, solutions for the housing and integration of internally displaced people remained "insufficient." It says that the Georgian authorities took steps to improve the living conditions of displaced people, however, some of the refurbished collective centers and newly built settlements did not meet international standards of adequate housing. It said that forced eviction of about 500 IDPs from their temporary shelters in Tbilisi in summer, 2010 breached international standards.
The report also says that investigations into reported harassments and attacks by the police and unknown groups during the protest rallies in 2009 remains "stalled". The report also notes about the concerns of some human rights groups regarding stop-and-frisk powers for the police introduced in September, 2010.