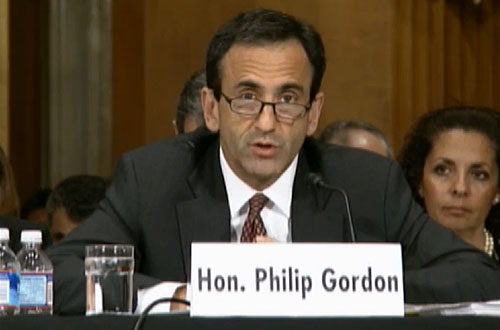 U.S. Assistant Secretary of State for European and Eurasian Affairs, Philip Gordon, speaks at a hearing of the Subcommittee on European Affairs of the Senate Foreign Relations Committee on May 18.
Russian military presence in Georgia's breakaway region, about which Moscow is "not fully transparent, is a problem" and it can lead to just sort of incident that occurred at the South Ossetian administrative border on May 18 in which two Georgian civilians were wounded, Philip Gordon, the U.S. assistant secretary of state for European and Eurasian affairs, said.
He told the Subcommittee on European Affairs of the Senate Foreign Relations Committee on May 18, that he would not focus on specifics of that incident as he had no detailed information about it.
"It is precisely this sort of incident that happened today [May 18] that underscores why we are concerned about the unresolved situation in Georgia," he said.
Gordon said that having no international presence to monitor situation in the breakaway regions was also a problem, because while knowing what is happening in "undisputed" part of Georgia through presence there of EU Monitoring Mission (EUMM), the international community had "little idea" about developments in the breakaway regions.
Gordon said that "some progress" has been made in Geneva talks and cited meetings between the sides in frames of Incident Prevention and Response Mechanism to address daily security needs on the ground.
He, however, said this "some progress" was not enough. "We really want to see Russia fully implement all of the points in the 2008 ceasefire and then start tackling broader and more fundamental point of Georgia's sovereignty and territorial integrity," Gordon said.
His remarks followed a question from Democratic Senator Jeanne Shaheen who asked about the May 18 incident at the South Ossetian administrative border. Together with Republican Senator Lindsay Graham, Senator Shaheen co-sponsored a draft resolution in the U.S. Senate recognizing Abkhazia and South Ossetia as regions "occupied by the Russian Federation".
During his testimony Philip Gordon also said that the U.S. efforts in respect of Georgia's unresolved conflicts "have so far not been as fruitful as we might like. But we'll continue to work on that."
In written prepared remarks before the Senate subcommittee Gordon noted about the U.S. goal to cooperate with Russia "where we have common interests, but not at the expense of our principles or our friends."
"As such, where we have concerns, such as on Russia's human rights record, or on Georgia, we will continue to raise concerns with government and foster connections with civil society," Gordon says.