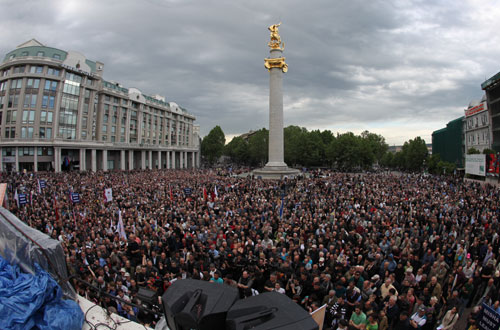 Protesters on the Freedom Square, May 21. Photo: Guram Muradov/Civil.ge
Thousands of protesters, gathered on Freedom Square as part of the campaign by opposition People's Assembly movement to force President Saakashvili to resign, start marching towards the Georgian Public Broadcaster (GPB).
Nino Burjanadze, ex-parliamentary speaker and leader of Democratic Movement-United Georgia party, who is a key figure behind the movement, said further plans of the rally would be announced outside the GPB headquarters, which is located on Kostava Street about three kilometers away from the Freedom Square.
Meanwhile in Batumi, main town of Adjara Autonomous Republic on the Black Sea, a simultaneous rally is held.
Before marching towards the GPB, organizers of the rally in Tbilisi read out an appeal to the international community, saying that President Saakashvili "has deprived the people of its constitutional rights" and holding of free and fair elections would only be possible after President Saakashvili's resignation.
Burjanadze told the rally it was "a decisive struggle against the Saakashvili regime, which will be accomplished with success."

Burjanadze called on "those who are now watching the rally on TV" to join the protest. Tbilisi-based Maestro TV was providing live coverage of the protest. The live coverage was also available on the Georgian Public Broadcaster's Second Channel, which covers mainly the capital city.
Burjanadze said that "there was a terror in recent days" against supporters and activists of the People's Assembly to force them not to participate in the rally.
"We should act and act without making step back and we will force this government to go. This is a decisive struggle," she said.
"We are sure that in few hours there will be lot more people. It is not an easy struggle. This is a struggle which has multiple stages, which should be accomplished in a short period of time," Burjanadze said.
No concentration of police forces was visible outside, in the streets, nearby marching protesters, who are moving towards GPB via the Rustaveli Avenue. Only couple of patrol police cars was outside the Parliament building on the Rustaveli Avenue.
Police forces, however, were deployed inside the Public Broadcaster's headquarters after it was announced by the protesters that they would move towards GPB.