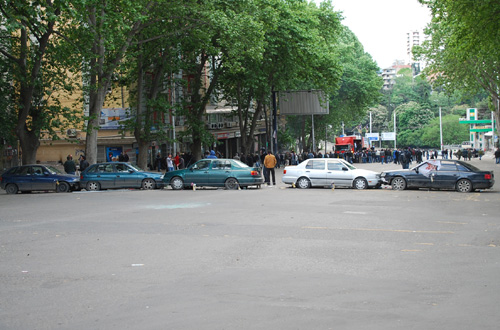 Cars at the protest venue block Kostava Street, going down to a roundabout on Heroes Square in downtown Tbilisi, early on Monday morning, May 23. Photo: Civil.ge
Few hundred activists of the People's Assembly, an umbrella organization of several opposition groups, led by Nino Burjanadze, spent second night outside the public broadcaster's office blocking traffic on Kostava Street.
Unlike previous day there have been no clashes with the police.
However, there has been couple of cases when some activists at the rally entered into confrontation with several journalists, involving verbal insults and in one case a cameraman from itv.ge website said his on-camera mic was damaged by one of the activists.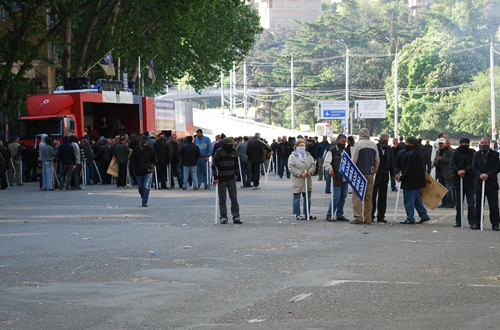 Protesters outside the public broadcaster's office on Kostava Street early on Monday morning, May 23. Activists, especially those who keep vigil, carry large white plastic sticks for, as they say, self-defense. Photo: Civil.ge
Senior figures behind the protest rally are frequently blaming some journalists, mainly those from the major nationwide television stations of following authorities' orders and calling them "agents"; they also say that those journalists are deliberately provoking protesters.
Leaders of the ongoing rally announced on Sunday that current protest venue would remain a focal point of the rally for at least one more day. They have yet to announce their further plans.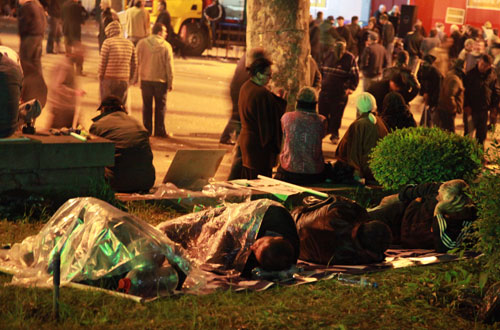 Several activists rest outside public broadcaster overnight on Monday. Photo: Civil.ge
The opposition Georgian Party, which has joined the rally on May 22, said it would hold a rally, as part of "the Day of Rage" on May 25 on Avlabari Square, where the presidential palace is located. Nino Burjanadze, however, indicated on Sunday that she was skeptical about holding rally on Avlabari Square.