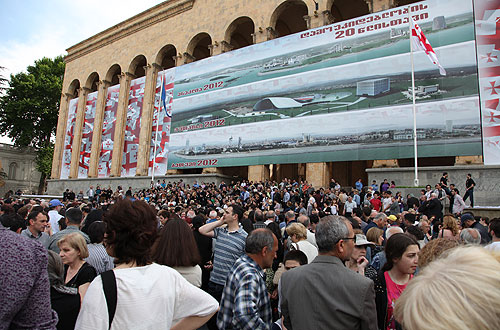 People gathered at a rally outside the Parliament on May 28 to protest against the break up of the protest on May 26. Photo: Guram Muradov/Civil.ge
Several thousand people were gathered outside the Parliament on May 28, where riot police broke up anti-government demonstration two days ago, to protest against violence.
The rally first gathered at the Shota Rustaveli monument in downtown Tbilisi, before marching towards the Parliament on the Rustaveli Avenue.
Several civil society organizations, strongly critical of the authorities policies called for such rally on May 27; among others one is Former Political Prisoners for Human Rights.
Protesters have demanded investigation of the excessive use of force by the police during dispersal of the rally on May 26 and release of the arrested protesters.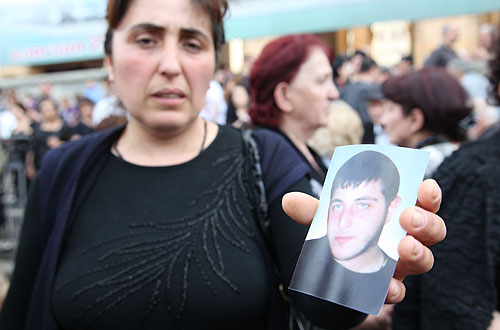 Patima Karosanidze shows at a rally outside the Parliament on May 28 a picture of his 21-year-old son, Demur Managdze, who, she said, is missing since the break up of the protest rally on May 26. She said that her son is an activist of a youth wing of the People's Assembly, an opposition movement which was behind the recent street protests. Photo: Guram Muradov/Civil.ge
Some conflicting calls have been heard at the rally with some urging protesters to disperse now and gather again few days later or possibly tomorrow and others calling for turning the rally into a permanent one to mount pressure on the authorities to fulfill their demands. One of those calling for permanent rally was Jaba Jishkariani from the radical opposition group Civil Front, which is not a political party. Eventually protesters decided to disperse and gather again at the Shota Rustaveli monument at 3pm local time on May 29.
There was one instance when several people at the rally verbally insulting journalists from television stations, which are regarded as government-controlled. Some protesters were calling those acting aggressively to show restraint and to stop insulting journalists.
Although political parties were not among organizers of the rally, some individual opposition politicians appeared at the rally. They, however, made no speeches at the rally, as many people at the gathering were voicing criticism towards the political leaders.