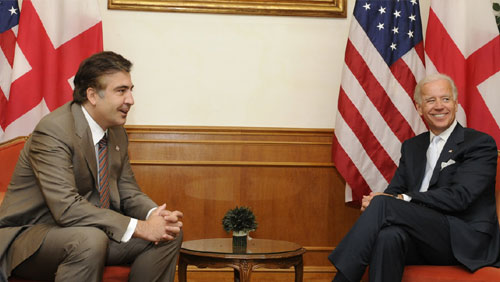 President Saakashvili [left] and Vice President Joe Biden (right) at a meeting in Rome on June 1. Photo: Georgian president's website.
U.S. Vice President, Joe Biden, met with President Saakashvili in Rome on June 1 to discuss security and democracy in Georgia, as well as issues related to Russia's WTO membership, the White House said.
Biden and Saakashvili are in Rome to attend the celebration of the 150th anniversary of Italian unification.
In a read-out released after the meeting the White House said that Biden and Saakashvili "discussed our shared interest in security, democracy and prosperity in Georgia."
"Vice President Biden reiterated the United States' support for Georgia's sovereignty and territorial integrity. The Vice President expressed his appreciation to President Saakashvili for Georgia's significant new contribution of forces to the International Security Assistance Force in Afghanistan, which will make Georgia the largest non-NATO contributor to ISAF," the White House said.
It said that Biden "also expressed support for the Swiss-mediated talks between Georgia and Russia regarding Russia's candidacy for membership in the World Trade Organization."
The next round of the Swiss-mediated Russia-Georgia talks on Moscow's WTO entry terms was scheduled for June 2, but, according to the Georgian officials, it was postponed because of "technical reasons" upon the request of the mediator.
Giga Bokeria, the secretary of Georgian National Security Council, said in televised remarks that "it was a very warm meeting."
"All the important issues for us have been discussed in very details," Bokeria said.
Bokeria was among the Georgian senior officials, who attended the meeting between Biden and Saakashvili, also including Georgian Economy Minister Vera Kobalia and Georgian Deputy Foreign Minister Tornike Gordadze.
"Mr. Biden expressed full support towards Georgia's reforms. Russia's WTO membership talks were also discussed and he made it clear and stressed his and President Obama's position that Russia should agree this issue with Georgia and that there will be no pressure on Georgia from outside, whether from the U.S. or other countries, over this issue and this is very important," Gordadze said.
During the visit the Vice President also plans to participate in a trilateral lunch meeting with Italian Prime Minister Silvio Berlusconi and Russian President Dmitry Medvedev.