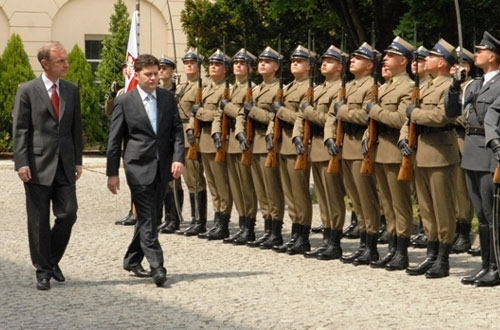 Defense Minister of Poland Bogdan Klich (left) and his Georgian counterpart Bacho Akhalaia (right), June 1. Photo: Georgian MoD.
Georgian Defense Minister, Bacho Akhalaia, who pays two-day official visit to Warsaw, met with his Polish counterpart, Bogdan Klich, on June 1.
The Polish Defense Minister said after the meeting that bilateral cooperation, as well as situation in the South Caucasus and priorities of the Polish upcoming EU presidency was discussed during the meeting.
He reiterated Poland's support to Georgia's aspiration to become NATO member.
The two Defense Ministers also discussed deepening cooperation in the field of military education, the Georgian Ministry of Defense said.
"Georgian Defence Minister offered his Polish counterpart to prepare the representatives of the Polish Armed Forces in the Sachkhere Mountain Training School [in Georgia] in autumn," the Georgian MoD said. "Bogdan Klich offered his Georgian colleague to send an expert to the National Defence Academy next year who will give a course on the peacekeeping missions."