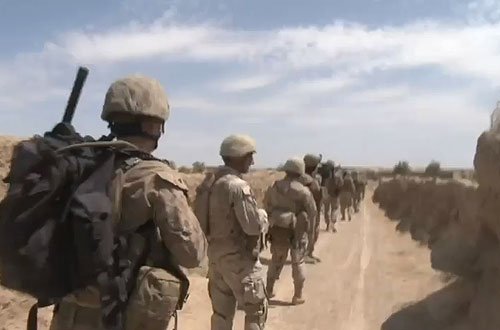 A screengrab from
NATO footage
showing Georgian soldiers from the 32nd battalion of the 3rd infantry brigade on patrol in the province of Helmand this spring. Georgia rotated its 32nd battalion with the 33rd one in April, 2011.
(This is an updated version of the June 2 text, which adds MoD comments in second and third paragraphs)
Georgia, which already has over 900 troops in Afghanistan, will become the largest non-NATO contributor to ISAF operations, it has emerged after the White House released a readout of a meeting between Vice President Joe Biden and President Saakashvili.
The Georgian Ministry of Defense said in an email in response to Civil.ge's request for comment, that "details of the matter are not yet known."
"As soon as final decision is made, the information will definitely become available for media," MoD said.
"The Vice President expressed his appreciation to President Saakashvili for Georgia's significant new contribution of forces to the International Security Assistance Force [ISAF] in Afghanistan, which will make Georgia the largest non-NATO contributor to ISAF," the White House said after meeting between Biden and Saakashvili in Rome on June 1.
The announcement means that Georgia apparently has committed to send at least one more battalion to Afghanistan.
Currently the largest non-NATO contributor to the ISAF mission in Afghanistan is Australia with about 1,550 troops.
It means that Georgia, which currently has 925 soldiers in Afghanistan, most of them stationed in Helmand province, has to send additional more than 625 servicemen to exceed Australian troop number and to become the largest non-NATO contributor to the ISAF mission.
Georgia has lost total of eight soldiers in Afghanistan since joining the ISAF mission in November, 2009.
The Georgian MoD reported about the most recent fatality on May 27, saying that Junior Sergeant Lavrosi Ivaniadze from the 33rd battalion was killed in "the mine explosion during patrolling" in the Helmand province.
Georgia had 2,000-strong troops in Iraq, which were withdrawn during the war with Russia in August, 2008. Georgia suffered three combat fatalities and at least 19 servicemen were injured in Iraq, where Georgia first deployed its troops in August, 2003. Also in Iraq one Georgian serviceman died in a car accident and one committed suicide.