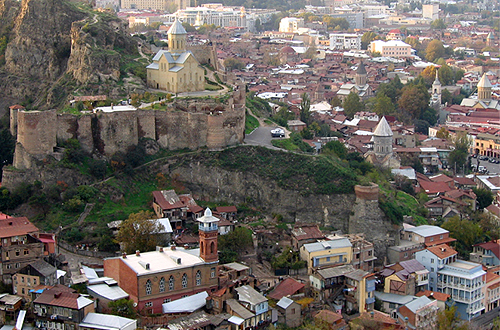 Georgian Orthodox church, Armenian church and a mosque seen on this view over Tbilisi's Old Town. Photo: Guram Muradov/Civil.ge
Legislative amendment allowing religious minority groups to be registered as legal entities of public law, went into force after being published on July 6 by the state online registry of legal acts.
Posting of the document by Sakanonmdeblo Matsne (legislation herald) means that it has been signed into law by President Saakashvili, after it was passed with its second and third hearings by the Parliament on July 5.
According to the amendment into civil code, religious groups, which have "historic ties to Georgia" or are defined as religions by legislation in Council of Europe member states can be registered as legal entities of public law.
The Georgian Orthodox Church condemned approval of the amendment saying it was in conflict with "interests of both the Church and the country." Senior clerics from the Georgian Church say that it would now pave the way for some religious minority groups, particularly the Armenian Apostolic Church, to formally claim ownership over several disputed churches. The Georgian Patriarchate was insisting that the Georgian Church too should have been granted a legal status in Armenia in parallel to the similar decision by Georgia.
Many opposition parties condemned hasty approval of the amendment with some of them called on President Saakashvili earlier on July 6 to use his constitutional right and veto the bill.
A group of about couple of hundred people, including some Orthodox clerics, gathered outside the Kashveti church on Rustaveli Avenue in Tbilisi to protest against the amendment.
Before this amendment, in order to receive a legal status religious groups, other than the Georgian Orthodox Church, whose special role and status is recognized by the 2002 concordat with the state, had to registered as a noncommercial entity of private law.
Such form of registration, however, was triggering protest of some religious minorities, saying that this rule was depriving them privilege to be formally recognized as religions in Georgia.

Eight years ago the Georgian Orthodox Church's intervention, including through a protest rally outside the Parliament, led to thwarting signing of an agreement between Georgia and Vatican, which would have guaranteed legal rights for the Roman Catholic Church in Georgia.
In September, 2003, ahead of the parliamentary elections, then Georgian President, Eduard Shevardnadze, yielded to pressure from the Georgian Orthodox Church and in a last-minute decision canceled plans to sign an interstate agreement with Vatican. As a result, Cardinal Jean-Louis Pierre Tauran, who at the time was Secretary for the Holy See's Relations with Foreign States, and who arrived in Tbilisi for signing of the agreement, had to leave Georgia empty-handed.