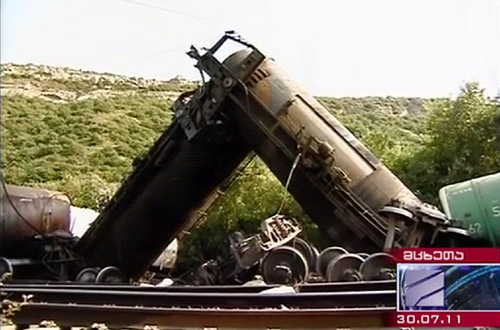 Screen grab from Rustavi 2 TV footage showing derailed cars from the incident site on July 30 close to Mtskheta.
Cargo train hauling over dozen of cars, carrying fuel and other types of products, derailed close to Mtskheta, a small town outside Tbilisi on July 30, an emergency service official said.
Ten rail cars, including those carrying fuel, have left the track and overturned as a result of the incident in which no one was injured, Nodar Chumbadze, an official from the emergency services management agency, told Rustavi 2 TV.
Fuel was spilled, he said, and to prevent fire the incident site was filled with foam by fire fighting teams. Fuel also spilled over on a section of the main east-west highway, running close to the site where the derailment occurred, disrupting movement on the highway too.
According to preliminary information one of the rail cars was "technically faulty" which caused the derailment, Irma Stepnadze, a spokesperson for the state-run Georgian Railway, told Civil.ge.
She said that the freight train was carrying cargo belonging to various firms, including from Georgia, Azerbaijan and Kazakhstan.

The derailment will cause at least two hour delays in schedule of passenger trains, planning to head from Tbilisi to the western part of the country, according to the Georgian Railway.