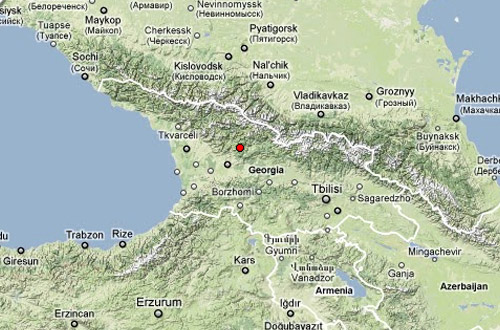 Red bullet on this Google Map marks epicenter of the earthquake. Source: Georgian Seismic Monitoring Center
5.5-magnitute earthquake hit western Georgian region of Racha on August 18 with slight tremors felt in some towns in eastern part of the country, according to the Georgian Seismic Monitoring Center (GSMC).
GSMC of the Tbilisi-based Ilia State University said, that epicenter of the earthquake, which struck at 3:57pm local time, was in the village of Chrebalo 13 kilometers west from the town of Ambrolauri.
European-Mediterranean Seismological Centre (EMSC ) put the magnitude at 5.0 and the U.S. National Earthquake Information Center (NEIC) put it at 5.1.
Alexandre Kvatadze, deputy governor of the region, told Imedi TV via phone before 5pm local time, that the earthquake did not cause destruction and there were no casualties. No other detailed information about scale of damage, if any, was immediately available.