'I am a dreamer with no lack of pragmatism';
'After two-three years I will quit to become major opponent of govt';
'Three parties in Parliament ideal, but not for now';
'Victory possible even under existing electoral system'
'Govt wants to push us into the streets; we should not play this game';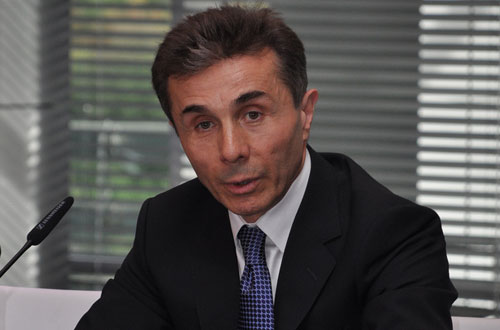 Bidzina Ivanishvili speaking at a meeting with foreign diplomats in his headquarters in Tbilisi, October 20. Photo: Ivanishvili's press office
via Flickr
.
Billionaire-turned-politician, Bidzina Ivanishvili, says he does not even want to hear the words 'revolution' or 'street protests' as he aims to come into power only through elections.
Ivanishvili, who has lost his Georgian citizenship, said in a lengthy interview with a political commentator and a blogger Ia Antadze, that after challenging President Saakashvili, he was now expecting anything from the authorities in order to bar him from the politics.
"I do not even rule out that I might be shot; I realize it and I am careful," he said in the interview recorded on October 19 and released on October 21.
Ivanishvili, who described himself as "a dreamer with no lack of pragmatism", said his goal was to come into power with an absolute majority in the Parliament to form the government and to quit it after two or three years following carrying out "fundamental changes" and to become the main opponent of the same government.
"I plan fundamental changes and after that I will quit… I am planning to go into opposition of the government, which we will create. When I said in my first letter that I would quit the government after two or three years, it means that I will become the main opponent of the government and I will strengthen the opposition as much as possible in order to have a relevant control on the government. I want to create such precedent," he said.
He said that his track record of being a successful business leader, who had ruled his business empire based on principles of "liberalism and democracy", as well as his pledge to quit the government in two-three years were guarantees that he would not misuse constitutional majority in the Parliament.
He also said that a person failing to criticize him had never been a member of his team.
'Ideal Parliament'
Ivanishvili said that for him an ideal Parliament would be to have at three parties in the legislative body with none of them having more than half of the seats.
He, however, said that in the current situation, existing in Georgia, such an option would not immediately work as in case of having only one-third of seats "nothing will change."
"When I say that I will come [into power] with absolute majority, I mean constitutional majority – two-third [of seats in the Parliament] plus one, he said.
"I consider ideal a parliament where there are three parties and in where none of the party controls more than half [of the seats]. I do not consider two-party parliament to be the best option. There may be four, five and even more [parties], but I think that three parties in the parliament will be most efficient… I see the necessity in having a constitutional majority because we will fail to carry out substantive, systemic changes with a smaller team [in the Parliament]."
'Victory Possible Even Under Existing Electoral System'
Confident in winning elections, Ivanishvili says that success will even be possible under the existing electoral system. He suggested that advantage of his planned political force and his partners would be so large over the ruling party, that even in case of ballot rigging it would be possible to win majority of seats in the parliament.

"The existing [electoral] code is dangerous only in the condition when there is a tight race [between opposition and the ruling party]. National Movement will in fact receive from 10% to 20% of votes," he said, adding that the authorities would only be able to at most double their votes through ballot rigging. He also said that in case of larger scale ballot fraud the U.S. and Europe would not recognize elections as legitimate.
'No Prepared Recipes'
Ivanishvili said that improving constitution was the "first thing" that should be done after coming into power.
He said that he had no prepared solutions of exactly what kind of constitution Georgia should have, or "prepared recipes" how to make the judiciary system fully independent.
"I myself have not this knowledge, but I know how demand this from those who have this knowledge and how to get the best result," Ivanishvili said.
"The good constitution will be the one which is a result of an agreement within the society and not the one written by me," he said. "We should create such constitution which will rule out any risk [of concentration of power in single person]… Constitution is very important. But only constitution won't protect you against authoritarianism. The society should also be ready for it. I am going to strengthen the society. That is my major goal."
'I Spare No Efforts to Avoid Launch of Gaddafization'
"I don't want to use this word," he said when asked if "revolution" would become part of his political rhetoric. "If I have to use this word I will consider that my decision to come into politics was wrong."
"But I think that my decision to go into politics was timely and correct and that we will manage to change the authorities without any revolutions. If Saakashvili manages to rig elections through various tools, we will be able to prove his illegitimacy. He will not be able to stay in power through ballot rigging. I do not want to even hear the word 'revolution' or to mention the word 'street' [referring to street protest rallies]. We should create the first precedent of government change through elections. This will be one of the greatest achievements."
"I spare no efforts to avoid launch of Gaddafization here [referring to armed conflict in Libya; the interview was recorded a day before Muammar Gaddafi was killed]. My major goal is to stop them [authorities] somehow, to return them back to legal frames somehow. Therefore, I am doing my best to reduce [political] temperature to avoid confrontation. I am very afraid of start of street protest rallies – that is in their [authorities'] interests. We should not play their game. We should somehow get to the elections," Ivanishvili said.