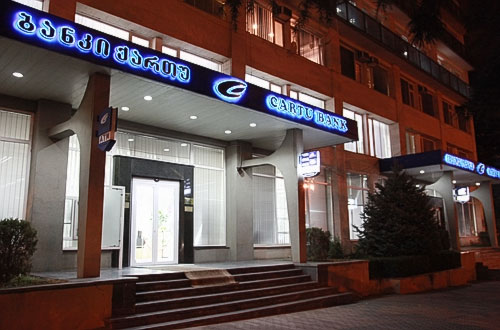 Cartu Bank, which is the sixth largest bank by assets in Georgia (there are 19 commercial banks in the country), is wholly owned by Bidzina Ivanishvili. Photo: Guram Muradov/Civil.ge.
Cartu Bank, owned by billionaire-turned-politician Bidzina Ivanishvili, said on Friday that seizure of large amount of its cash by the police on money laundering charges was politically-motivated and part of the authorities "political revenge" against Ivanishvili.
USD 2 million and EUR 1 million was seized from Cartu Bank after police raid on the bank's cash delivery van in Tbilisi center on October 18; the armored van, transporting cash from the Bank of Georgia's headquarters, was also confiscated. The Interior Ministry said seizure was related with a criminal investigation into alleged money laundering case.
In a second written statement in connection to the case, the Cartu Bank reiterated on October 21 that it was "usual cash replenishment transaction". Citing recently increased cases of money withdrawals by its clients from both current and deposit accounts, the Cartu Bank, said that demand on cash "has sharply increased".
"In order to guarantee a flawless satisfaction of the customer demand, on October 18, 2011 Cartu Bank, JSC executed two standard banknote deals with the Bank of Georgia, JSC under General Agreement on Carrying out Treasury Transactions," Cartu Bank's legal department said in its statement in English.
"According to the deals, Cartu Bank, JSC transferred USD 2,000,000 (two million) from its correspondent account with Deutsche Bank Trust Company Americas, New York, USA to the correspondent account of the Bank of Georgia with Citibank International, New York, USA; and EUR 1,000,000 (one million) from its correspondent account with Commerzbank (Frankfurt, Germany) to the correspondent account of the Bank of Georgia with the same Commerzbank. In return for the above transfers Cartu Bank was to receive cash from the Bank of Georgia USD 2,000,000 (two million) and EUR 1,000,000 (one million)."
"For Cartu Bank, JSC it is absolutely incomprehensible why or how can such usual transaction as cash replenishment be regarded as money laundering," Cartu Bank said, adding that this year it had carried out about "two hundred similar transactions, total amount of which exceeds tens of millions of US dollar equivalent."
The Georgian central bank, which is inspecting Cartu Bank, said the transaction was suspicious. The National Bank of Georgia (NBG) claims that Cartu Bank violated a long-standing practice of informing NBG in advance about the transaction involving such large amount of cash in foreign currency.
NBG president, Giorgi Kadagidze, said on October 20 that explaining need for such unusually large amount of cash in foreign currency by saying that it was intended for backing potential deposit withdrawals was also suspicious, because share of deposits in the Cartu Bank's portfolio was relatively small. According to NBG, two days after the cash seizure incident, Cartu Bank used its access to a direct lending facility from the central bank and withdrew cash in an amount much smaller than during the suspicious October 18 transaction.