'Our message today is keep strengthening your democracy'
Georgia's Afghan contribution 'priceless'
'No direct link between contribution to ISAF and NATO membership'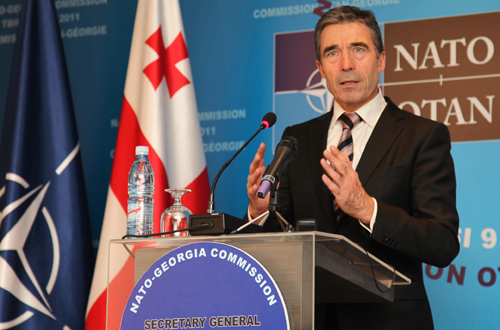 NATO Secretary General, Anders Fogh Rasmussen, speaking at a news conference in Tbilisi after NATO-Georgia Commission meeting, November 9. Photo: Guram Muradov/Civil.ge
Georgia has "achieved a lot" and NATO's message now is to keep up this momentum of reforms, especially ahead of the electoral cycle in next two years, which will be "a litmus test" for Georgia's democracy, Anders Fogh Rasmussen, the NATO Secretary General, said.
"Georgia is on the right track and you came a long way, but you have not yet reached your destination. Georgians want to live in full mature modern democracy," he said in his opening remarks at a news conference after NATO-Georgia Commission meeting in Tbilisi on November 9.
"Our message today is keep up the momentum; keep strengthening your democracy; keep building the pillars of free and democratic state, the rule of law, the freedom of the judiciary and the media, fight against corruption, the involvement of civil society," he said. "In particular keep the momentum in electoral reform. The elections in 2012 [parliamentary] and 2013 [presidential] will be a litmus test of your democracy and we are looking forward to seeing the necessary reforms introduced."
The issue is also addressed in a joint statement of NATO-Georgia Commission, which notes Tbilisi's positive steps in implementing the reforms and also says the Georgian government agreed that these areas of democratic reforms should be priorities for the Annual National Programme in 2012.
The NATO-Georgia Commission is a main mechanism through which NATO-Georgia cooperation is supervised, including implementation of reform targets set in Georgia's Annual National Programme (ANP), which is reviewed annually by the Alliance.
"When I say that Georgia moved closer to NATO, I am referring to the fact that our annual assessment clearly demonstrates that Georgia has carried through a number of reforms that are required for the future membership of NATO. So progress has been made, but there is still some work to do and this is also reason why I am not able to present to you any timetable as to when Georgia can expect to become a member of NATO; that very much depends on further progress," the NATO Secretary General said.
'NATO-Georgia Already Close Partners'
Rasmussen said that Georgia and NATO were already "close partners", adding that Georgia was providing "priceless contribution" to NATO-led operations in Afghanistan by being the second-largest non-NATO contributor of troops.
"Georgia is important for NATO and I know NATO is important for Georgia; we are already close and we want to move even closer," he said.
He, however, also made it clear that there was no direct link between participation in the Afghan operation and the NATO membership.
"The Georgian contribution to our operation in Afghanistan also helps to improve interoperability between Georgian armed forces and NATO armed forces… But having said that I would also like to stress that there is no direct link between contributions to our operations and future membership of NATO; it is one factor, but there are many elements that have to be fulfilled before the membership can materialize," Rasmussen said.
The joint statement of NATO-Georgia Commission says that ambassadors from North Atlantic Council "welcomed Georgia's commitment to further contributions to the operation in Afghanistan." Georgia has said several months ago that it would further increase its military presence in Afghanistan by sending one more battalion next year, that will make Georgia the largest non-NATO contributor of ISAF.
The Secretary General reiterated 2008 NATO Bucharest summit decision, that Georgia would one day join the Alliance, stands and no third party would have a veto over NATO's enlargement. He also said that NATO's open-door policy was not directed against Russia.
"We want to engage positively with Russia," said Rasmussen, who also reiterated NATO's commitment to non-recognition policy of the breakaway regions.
In the joint statement following NATO-Georgia Commission, NATO ambassadors said referring to the Alliance's 2010 Lisbon Summit decision "to continue to call on Russia to reverse its recognition of the South Ossetia and Abkhazia."
NATO envoy, Dmitry Rogozin, responded on his Twitter: "NATO ambassadors are calling RF [Russian Federation] to reverse South Ossetia, Abkhazia recognition. And we are calling on them to reverse calling on us."