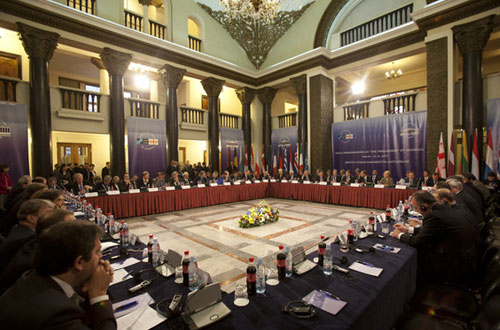 Meeting with NATO Secretary General Anders Fogh Rasmussen and members of the Georgian Parliament, November 10. Photo: NATO
Parliamentary elections next year "will be an important indicator of how strong Georgia's democratic institutions are," NATO Secretary General, Anders Fogh Rasmussen, said after meeting with Parliamentary Chairman, Davit Bakradze, on Thursday morning.
"Parliament is a keystone of democracy and democracy is a keystone of Georgia's future," he said, adding that domestic democratic reforms were discussed during a meeting with the Georgian parliamentary speaker.
"Georgia is already a strong partner [of NATO] and I look forward to the day when you will be a strong member of our Alliance," Rasmussen said. He also said that membership would require work and reforms and NATO was committed to help Georgia in this regard.
Parliamentary Chairman, Davit Bakradze, said that it was possible to "boldly state", that Georgia was now "closer to NATO than ever before." Rasmussen said during his first day of visit on November 9, that although much work remained ahead, Georgia "has come a lot closer to NATO" since the 2008 Bucharest summit.
"NATO-Georgia partnership is a success story," Bakradze said.
He said that Georgia had all the mechanisms required for further deepening of partnership, including Annual National Programme, a set of reform targets reviewed by the NATO annually, as well as NATO-Georgia Commission, a body supervising cooperation.
"And there is a commitment of the Bucharest summit, when NATO has unambiguously stated that Georgia will become the NATO member," Bakradze said. "All these three elements create conditions through which Georgia will definitely become the NATO member state."
"We hope that [NATO] summit in Chicago will be one more opportunity to note progress in NATO-Georgia relations; we hope that one more step will be made at the Chicago summit that will bring Georgia closer to NATO," Bakradze said.
"But we also understand that it is not a one-way street and we understand how much Georgia has to do... Continuation of domestic reforms and consolidation of democracy, deepening of economic reforms - together with the mechanisms mentioned above, all these make prerequisites for making Georgia's NATO integration a success story," he added.