Ivanishvili files for citizenship through naturalization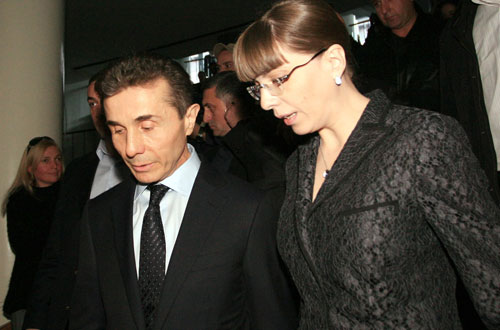 Bidzina Ivanishvili and his wife, Ekaterine Khvedelidze, seen after the inaugural session of the billionaire politician's public movement, Georgian Dream, in Tbilisi on December 11, 2011. Photo: InterPressNews
In an appeal sent to a judge of Tbilisi City Court billionaire opposition politician Bidzina Ivanishvili's wife, Ekaterine Khvedelidze, requests for an immediate enforcement of the court's judgment to restore her Georgian citizenship that would allow her "to take part in establishing a political party" and "running in the parliamentary elections" in October.
On December 27, the Tbilisi City Court partly upheld a presidential order number 602 stripping Ivanishvili of his Georgian citizenship, but in the same judgment the court also said the part of the same presidential order, which revoked Khvedelidze's citizenship, was illegal.
Enforcement of the judgment, however, is pending a possible appeal of the ruling by the parties to a higher court.
In her request to the judge, Khvedelidze argues, that if the judgment is appealed to the Court of Appeals by the president's office and then again to higher court, the entire proceedings may potentially last for over a year. In such case, Khvedelidze says, if throughout this period she remains without Georgian citizenship, she will be deprived of her constitutional right to establish a political party and to run in the elections scheduled in less than ten months. For that reason, Khvedelidze asks the judge to order an immediate enforcement of the judgment that would allow her to regain her Georgian citizenship.
It is not yet clear whether the president's office is intending to appeal the Tbilisi City Court's ruling in the part of Khvedelidze's citizenship to the Court of Appeals. According to Ivanishvili's legal team, the court handed over its December 27 judgment to the parties into the case on January 10 and if any of the party decides to appeal it to the higher court, they have to do it within next fourteen days.
The Georgian Public Defender's Office said last month that stripping Khvedelidze of her Georgian citizenship was illegal and called on the President not to appeal the ruling to the higher court.
Meanwhile, Bidzina Ivanishvili has launched an attempt to regain his Georgian citizenship through naturalization. One of his lawyers, Zakaria Kutsnashvili, said on Wednesday that Ivanishvili submitted relevant papers to the authorities on January 5.
According to the law on citizenship, the authorities have maximum of three months to respond to the application on citizenship.
Without having the Georgian citizenship Ivanishvili, who now holds French passport, has no right to personally either establish or finance a political party. He, however, said previously that even if President Saakashvili refused to restore his citizenship it would not stop him from political activities.
In November Ivanishvili said that he was considering putting his 19-year-old son, Uta, as a nominal leader of his planned party that would help him to bypass legal hurdles. But his son will have no right to run for parliament in October elections, because he is not 25 yet.