'Georgia should be extraordinarily proud of the progress it made';
'Anticipating fair and free elections';
'Formal transfer of power will solidify reforms';
Exploring 'the possibility of a free trade agreement' with Georgia;
'Georgia sets model of democracy for the region as a whole';
'Georgia responsible player on the world scene';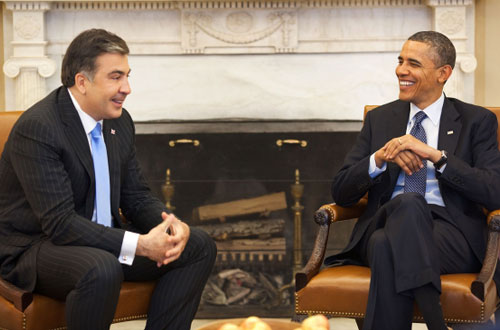 President Barack Obama and President Mikheil Saakashvili hold a bilateral meeting in the Oval Office, January 30. Official White House Photo by Pete Souza.
U.S. President, Barack Obama, told his Georgian counterpart in Washington on January 30, that Georgia was setting a model of democracy for the region and was now "anticipating fair and free elections" and President Saakashvili said he was leaving the Oval Office "very happy because we basically got what we wanted to get."
The U.S. President praised Georgia for "progress that is made in building a sovereign and democratic country", saying that Georgia should be "extraordinarily proud" of that; he also commended personally Saakashvili, saying that "under the President's leadership" Georgia "made enormous strides."
"And one of the first things that I did was express my appreciation for the institution-building that's been taking place in Russia – in Georgia [he immediately corrected himself]; the importance of making sure that minorities are respected; the importance of a police and system of rule of law that is being observed," the U.S. President said.
"So I want to express my appreciation for the work that's been done in the past, but also anticipating fair and free elections; the formal transfer of power that will be taking place in Georgia, which I think will solidify many of these reforms that have already taken place," President Obama said after talks with President Saakashvili – the first official meeting between the two at the White House.
On elections President Saakashvili said in his remarks after the meeting, that this year's parliamentary elections "will mark bringing in another political system, constitution system with more parliamentary government."
Saakashvili then added: "As you [referring to President Obama] rightly mentioned next year new President will be elected in Georgia. And that's also important because [we] will move our democracy forward and will generally get much more to a diversified and pluralistic political scene."
The U.S. President said that he had discussed with his Georgian counterpart how to further strengthen "already a very strong bilateral relationship", including in economy and added that possibility of free trade agreement with Georgia would be explored.

"Georgia has made strides in creating an effective free market system and more progress needs to be made. The United States wants to help in that progress," he said.
"What we've agreed to is a high-level dialogue between our two countries about how we can continue to strengthen trade relations between our two countries, including the possibility of a free trade agreement. Obviously, there's a lot of work to be done and there are going to be a lot of options that are going to be explored," he said.
President Saakashvili thanked his U.S. counterpart for mentioning "the prospect of a free trade agreement", saying that it would help "to attract lots of additional activity to my country, and basically helping our nation-building process."
On defense and security, President Obama said that he thanked the Georgian leader for his country's "extraordinary contributions" to the NATO-led operation in Afghanistan, describing Georgia as "one of the most dedicated contributors outside of NATO to the ISAF effort."
"We have talked about how we will continue to strengthen our defense cooperation, and there are a wide range of areas where we are working together. And I reaffirmed to the President and assured him that the United States will continue to support Georgia's aspirations to ultimately become a member of NATO," Obama said.
President Saakashvili thanked the Obama administration for, what he called, "elevating our defense cooperation further" and also expressed gratitude to President Obama for "talking about Georgia's self-defense capabilities and developing it."
"That's also of course an important message back to my nation," Saakashvili said.
President Obama also said that the U.S. appreciated "the model of democracy and transparency" that Georgia was setting not just for itself, but also "for the region as a whole."
"And we think that with continued progress over the next several years that a lot of countries will say to themselves that if Georgia can perform these transformations, then we can as well. They've been a responsible player on the world scene and in multilateral for a," the U.S. President said.