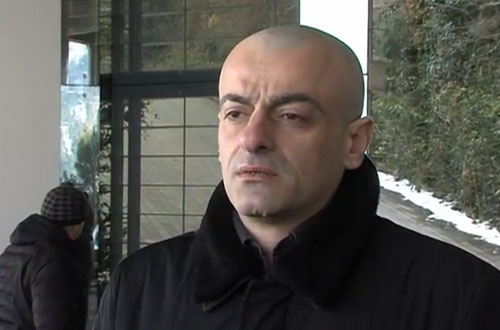 Screengrab showing leader of National Forum, Kakha Shartava, speaking with reporters after meeting with Bidzina Ivanishvili outside the billionaire's headquarters in Tbilisi on February 6.
National Forum opposition party will join billionaire politician Bidzina Ivanishvili-led coalition, which also includes Republican Party, led by Davit Usupashvili and Our Georgia-Free Democrats (OGFD), led by Irakli Alasania, Ivanishvili's press office said in a statement on February 6.
The coalition, which has yet to be formally established after setting up of Ivanishvili's planned party, also has as its members leader of Conservative Party Zviad Dzidziguri and leader of Party of People Koba Davitashvili.
Kakha Shartava, leader of the National Forum, said after meeting with Ivanishvili and leaders of Republican and OGFD parties on February 6, that consultations concluded with a decision to join the coalition.
"This process about which Bidzina Ivanishvili has announced that he would offer the Georgian people a coalition capable to bring victory, is moving forward," Davit Usupashvili, the leader of Republican Party, said on February 6.
Leader of OGFD, Irakli Alasania, said consultations were not ongoing with other political parties on joining the coalition.