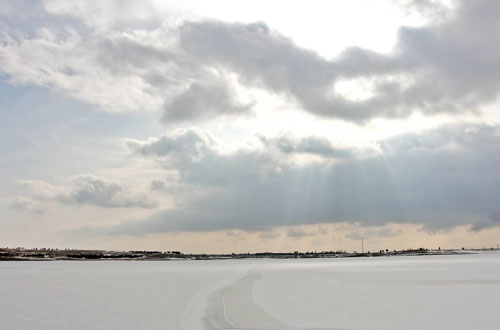 Frozen water reservoir in a suburb of the capital city, which is also called "Tbilisi Sea", February 7, 2012. Photo: InterPressNews
Two men, both reportedly homeless, died in Georgia last night after being hospitalized with hypothermia, as Georgia faces its coldest winter in forty years.
A man reportedly in his mid 40s died in one of the Tbilisi hospitals and another one died in Ozurgeti, western Georgia. At least two people – a man and an elderly woman, remain in hospital in Tbilisi with frostbites and hypothermia, the Georgian media sources reported on Saturday.
According to the state agency of weather monitoring and forecast temperature is expected to plummet to minus 9 Celsius in the capital city and to minus 20 in some parts of central and eastern Georgia overnight on February 12.
Heavy snowfall this week forced the Education Ministry to close schools for Thursday and Friday, saying that classes would resume from Monday.