His speech focused on 'five aspects of development plan';
Some opposition MPs accused Saakashvili of amassing wealth;
Ruling party has 'a resource to stay in power for many more years';
Saakashvili briefly left the chamber after exchanging barbs with an MP;
CDM leader asked him to give 'clear answer' on post-presidential plans;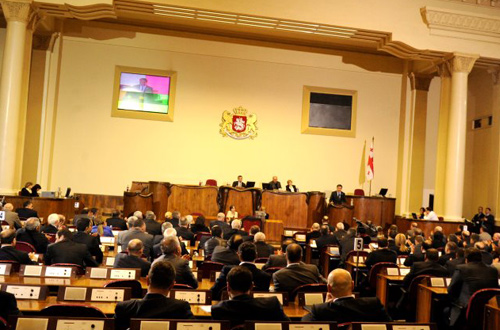 Lawmakers listen to President Saakashvili annual state of the nation address in Parliament chamber – a venue which hosted the event for the last time as the Parliament will be relocated from Tbilisi to Georgia's second largest city of Kutaisi this year. Official president's administration photo.
Georgia's governing party has a resource to stay in power for "many more years", President Saakashvili said, but sidestepped a question about whether he personally would seek a prime ministerial post or not after his second and final presidential term expires late next year.
He made the remarks during debates following his hour-long annual state of the nation address in the Parliament late on February 28 after he was asked to make clear his post-presidency plans – something Saakashvili has long been avoiding to do citing unwillingness to turn into a lame duck president.
But an episode for which the entire five-hour long event – the annual address itself and follow up debates – is likely to be remembered most of all came half an hour before the midnight when debate turned ugly after President Saakashvili exchanged personal attacks with an opposition lawmaker; at one point during that heated exchange, President Saakashvili even briefly left the chamber.

MP Jondi Bagaturia from an opposition parliamentary faction Unity for Justice, whose one of the members (not Bagaturia) is with billionaire opposition politician Bidzina Ivanishvili's coalition, used his rebuttal speech after the President's address to attack personally Saakashvili by accusing him and his family of corruption and amassing wealth after coming into power in late 2003.
When MP Bagaturia told the President that his mother managed to become "an owner" of one of the universities in Tbilisi and his father - "owner" of balneological resorts, Saakashvili interrupted opposition MP by telling him: "My father is not an owner of the balneological [clinic], although he is its director."
"Rolling in the mud is your natural position," continued Saakashvili, whose remarks caused laughter among the lawmakers in the chamber. "There is really good mud [in the balneological clinic]; [Parliament] marshals [overseeing order in the chamber] will accompany you to [the balneological clinic]; I will ask them to make a really good mud-bath for you, to put you in a real good quality mud and to knead you properly; all your fantasies will fully disappear."
"That is your politeness and tact," Bagaturia responded, but at that moment Saakashvili walked out of the chamber; he, however, returned back shortly after that and later said jokingly that he was out to phone his father to ask prepare a mud-bath for MP Bagaturia.
Before MP Bagaturia's speech a lawmaker from the same parliamentary faction, Gia Tsagareishvili from Irakli Alasania's Our Georgia-Free Democrats (OGFD) party, which is in Ivanishvili's coalition, accused Saakashvili and his key allies of amassing wealth after coming into power, handing over to the President photos of private houses he claimed were of key government members.
Saakashvili responded attacks on him by saying that his opponents' only weapon was "a lie" and because of that they would fail to shape public opinion "no matter how much money you will get from Gazprom" and "no matter which wealthy person privatizes you".
'Ruling Party Has Resource to Stay in Power for Many Years'
During the debates MP Giorgi Targamadze, the leader of Christian-Democratic Movement and of the parliamentary minority group, asked Mikheil Saakashvili about his post-presidency plans.

"I understand that it is difficult to do now, a year and a half before the presidential election… but Georgia and our western allies need a clear answer on a question: what Saakashvili plans to do?" MP Giorgi Targamadze said. "Will he remain committed to an idea of special democratic mission of Georgia and of its leader in the post-Soviet space – the idea promoted by Saakashvili himself, or will he follow the path of maintaining power."

Saakashvili, like he did for number of times in the past when asked the same question, again avoided a direct answer.
"My plan is to have schools in Georgia similar to those in Holland, Germany or Switzerland and I will be part of that process… My goals are not about my personal plans; my goals are about not to let the crime return back to Georgia as long as I am in charge… When you ask what I plan – my plan is to build [new city] Lazika… You wonder where I will be – I will definitely be in the built Lazika and I will take part in its construction – that's my role… You wonder what my plans are – my plan is to live in brightened Georgia, which no one will ever be able to darken and it will be achieved too in few years," Saakashvili said.
"I believe that this team, which governs Georgia today has the resource, in frames of democratic rules, to govern Georgia for many more years and I will not say no to such a perspective, because we really have a modernization plan… and we should make a leap from third world countries into the team of developed countries and Georgia now is in this process of making this leap; that is the most important,"
During the debates he also said that as the leader of ruling party he would try to contribute to the National Movement's victory in the upcoming elections, which he said "will be held fairly, transparently, freely."
"As the President, I will do my utmost to ensure fair elections, and as the leader of the National Movement… I will do my best for the National Movement to win these elections," Saakashvili said.
'Five Directions of Development'
In his annual address Saakashvili focused on, what he called, "plan based on five aspects" that would lead to a situation wherein more people would benefit from the progress Georgia had been making in recent years. He said these five directions were employment, agriculture, healthcare, democratic reforms and security.
On employment he said that increasing number of tourists in Georgia to five million annually by 2015, as well as infrastructure development projects would create additional jobs. Saakashvili said five new vocational training centers would be launched every citizen willing to learn a new profession will receive a GEL 1,000 voucher, which "will completely cover their retraining course tuition." He also said that the state would provide free trainings in English language and computer skills for 20,000 people.
On agriculture he said that the government would provide irrigation systems to cover 18,000 hectares of land and 3,800 hectares will have the drainage systems rehabilitated. Saakashvili also said that twelve "centers of mechanization" would be established with 250 new tractors and 400 tractor extension aggregates to serve farmers. These centers, he said, would also serve as a consultancy providers to farmers.
On healthcare Saakashvili said that 90 new medical centers and hospital had already been built and 40 more were planned this year. He also said that number of people with health insurance policies increased 40-fold since 2006, when the figure stood at 40,000. The number would further increase this year, he said.
"In 2012 every second citizen of Georgia will have insurance," he said. "We are declaring 2012 as the breakthrough year in healthcare accessibility."
He also announced about the plan to give onetime allowance of GEL 1,000 to each family for third newborn and GEL 2,000 for fourth newborn child starting from January, 2013.
On democratic reforms, Saakashvili said that new electoral code had been passed, adding that disagreements persisted on the issue and "we are ready to continue dialogue in this direction."
He said that independence of the judicially further strengthened by introducing jury system.
Saakashvili said Georgia had also enhanced the rights of minorities. "The freedom and the equality among people notwithstanding their race, ethnicity, religious or other affiliation is fundamental for our country, because the freedom of any minorities is the freedom of each one of us and because our equality is the strength of Georgia," he said.
"We have to take even bigger steps in the coming years to develop the democratic process in Georgia," he said and stressed on importance of parliamentary elections later this year.
On security and foreign policy issues, Saakashvili said that Georgia had further deepened ties with its western allies.
"There are forces which get irritated by this. This is why we need to be cautious so that we don't give an opportunity to deliberately or otherwise cause the loss of our achievement," he said.
He said Tbilisi was willing to improve ties with Moscow and offered visa-free travel rules for the Russian citizens.
Saakashvili also said: "We will never kneel down in the fight for [Georgia's] unification and de-occupation of our country."
He also spoke of the Caucasus region and said that Georgia was "a locomotive" for this region for development and "a window to Europe".
In his closing remarks after the five-hour long event, Saakashvili said that despite of heated arguments, "still I think that the major part of the debates was issue-based that really matters for people".