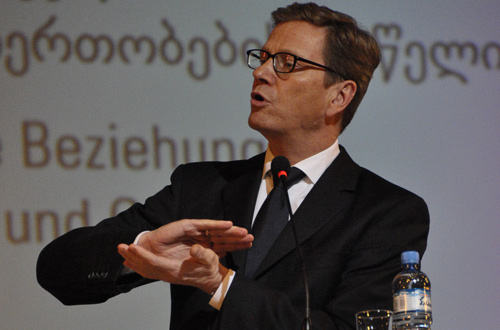 German Foreign Minister Guido Westerwelle speaks with students at the Tbilisi State University on March 15. 2012 marks 20th anniversary of establishment of diplomatic relations between Georgia and Germany, which was the first foreign country to open its embassy in Tbilisi in April, 1992. Photo: Marco Fieber.
Germany supports Georgia's "ambitious" European choice and will "actively advocate" for bringing Georgia closer to Euro-Atlantic structures, which will require democratic and institutional reforms, German Foreign Minister Guido Westerwelle said during his visit to Tbilisi on March 15.
Westerwelle was in Tbilisi as part of his trip to three South Caucasus states during which he met with President Saakashvili, his Georgian counterpart Grigol Vashadze, representatives of civil society organizations and opposition parties, as well as Georgia's ex-President Eduard Shevardnadze.
Speaking before students at the Tbilisi State University, the German Foreign Minister said that Georgia "has made significant progress in tackling an ambitious reform agenda" since 2004, adding that a successful transformation depends on democratic institutions, which includes "not only a democratic government, but also a vital and critical opposition."
"All democratic contenders for power need a level playing field," he said. "Respect for the rights of the opposition, free access to media, fair and transparent rules of financing and an independent judiciary are indispensable."
On Georgia's NATO integration, the German Foreign Minister said that 2008 NATO Bucharest summit decision that Georgia would become a member of the Alliance "continues to be our goal."
"Democratic and institutional reforms are required in order to bring Georgia closer to NATO," Westerwelle said. "We are now working on a new plan for Georgia's Enhanced Connectivity with NATO. This will create new opportunities for promoting reforms."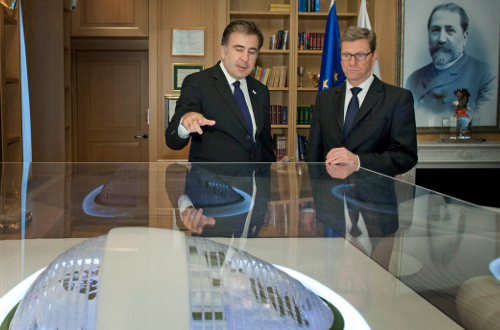 President Saakashvili shows German Foreign Minister Guido Westerwelle a model of Georgia's new Parliament building during a meeting in presidential palace in Tbilisi on March 15. Photo: German Federal Foreign Office
website
.
In this context he also mentioned Georgia's participation in NATO-led operations in Afghanistan to which Georgia will become the largest non-NATO contributor of troops after bringing number of its soldiers there to over 1,600 this year.
"At the NATO summit in Chicago this May, we will pay tribute to this truly remarkable engagement," said the German Foreign Minister, whose country contributes 4,800 troops to ISAF.
He said that Germany had good relations with Russia, "but that was never a reason" for Berlin "not to express clearly" support towards Georgia's territorial integrity.

"There should be no doubt about territorial integrity of Georgia," he said. "We also think it's time to have dialogue, to find ways for cooperation."
"We do believe in the necessity to build bridges even with partners who are sometimes difficult – and that includes Russia," the German Foreign Minister said.
He also said that Germany "strongly support[s] the idea to include Russia in specific projects of the Eastern Partnership" as a tool to reach out partners beyond those six former Soviet states which are part of the EU's Eastern Partnership initiative – Armenia, Azerbaijan, Moldova, Belarus, Georgia and Ukraine.
"We are convinced that all sides would benefit from a common cooperative agenda," he said.
On Eastern Partnership, the German Foreign Minister also said that this initiative "is not so much about joining or not joining the EU", but about bringing EU's six neighbors closer to Europe by "supporting them on their way towards good governance, rule of law and economic reform."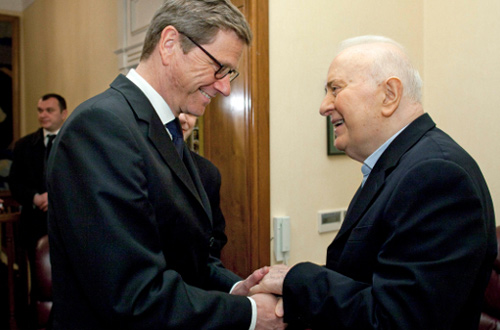 German Foreign Minister Guido Westerwelle meets Georgia's ex-president Eduard Shevardnadze, 84, who is respected in Germany for helping German reunification when he was the Soviet Union's foreign minister. Photo: German Federal Foreign Office
website
.
He said "good progress" had been made in EU-Georgia cooperation, involving a decision to launch talks on free trade agreement, adding that he was optimistic that dialogue on visa free regime will start "soon." "Our vision sees the Southern Caucasus and the EU united by visa free travel," he said.
Westerwelle said EU's and Germany's close cooperation with Georgia accomplished much and "we can be proud" of that.
"Yet we have to admit that we have not made sufficient progress in solving the conflicts that continue to divide the region and hamper its development," he said. "Hundreds of thousands continue to be displaced, families still are separated."
He welcomed Georgia non-use of pledge made in late 2010 and also hailed "the Georgian Government's Strategy of Engagement with Abkhazia and South Ossetia."
"In the end, bridges, not borders help solve conflicts peacefully," the German Foreign Minister said.
In Tbilisi the German Foreign Minister, who was accompanied on his trip by Federal Government Commissioner for Human Rights Markus Löning, met with a group of civil society representatives and opposition politicians. Among the opposition representative at the meeting were Davit Usupashvili of Republican Party and Irakli Alasania of Our Georgia-Free Democrats, both from Bidzina Ivanishvili-led coalition, as well as MP Magda Anikashvili of Christian-Democratic Movement (CDM).