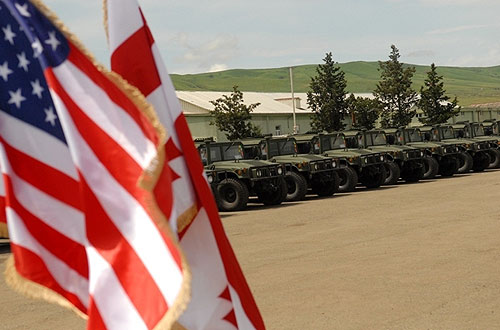 The U.S. donated forty Humvee vehicles to the Georgian MoD, Krtsanisi training center outside Tbilisi, June 7, 2011. Photo: Georgian MoD.
Russia said on March 27, that any U.S. military cooperation with Georgia "is fraught with rather grave consequences for peace" in the region because of "unpredictability of the Saakashvili regime."
Alexander Lukashevich, the Russian Foreign Ministry's spokesman, read out a statement on U.S.-Georgia defense cooperation after he was asked at a news conference to comment on "the U.S. decision to resume supply of arms to Georgia, which was suspended in 2008" – a reference was apparently made to remarks by U.S. ambassador-designate to Georgia, Richard Norland, who said during a nomination hearing at the Senate Foreign Relations Committee on March 21, that the U.S. had approved sale of M4 Carbines assault rifles to Georgia.
"Last year the U.S. embassy in Moscow informed us about Washington's plan to provide the Georgian military unit in the International Security Assistance Force in Afghanistan with M4 Carbines and armored Hummer vehicles and we reacted to that with a note sent to the U.S. embassy expressing concern about such actions by the American side," Lukashevich said.

"[Georgia's] participation in the ISAF mission in itself seems to serve as a justification for continued re-militarization and as yet another reason to push candidacy of this country for NATO membership."
"We deem it of crucial importance that the weapons used by the Georgian forces in Afghanistan do not reappear in Georgia. As shown by the tragic events of August, 2008, the Saakashvili regime can use these [weapons] against both Abkhazia and South Ossetia, including against citizens of the Russian Federation residing in these countries," the Russian Foreign Ministry's spokesman said.
"Because of irresponsibility and unpredictability of the Saakashvili regime, any cooperation with Tbilisi in the military sphere is fraught with rather grave consequences for peace and stability in the Caucasus. From this point of view, we are naturally watching all forms of American-Georgian cooperation in the defense sphere very closely," Lukashevich said.
"We have already drawn attention of the U.S. Department of State on frequent arrival of the U.S. Navy ships to the Georgian ports, including those equipped with Aegis system" of advanced antimissile weaponry."
"No matter of what the explanations are given to these [port calls], it is obvious that these port calls are perceived by the Georgian leadership as an encouragement of its revanchist ambitions," Lukashevich said.
The last time when U.S. warship made port call in Georgia was in October, 2011 when the U.S. guided missile cruiser Philippine Sea arrived in Batumi; before that, two U.S. guided-missile cruisers, Anzio and Monterey, made separate port calls in Batumi in June, 2011.