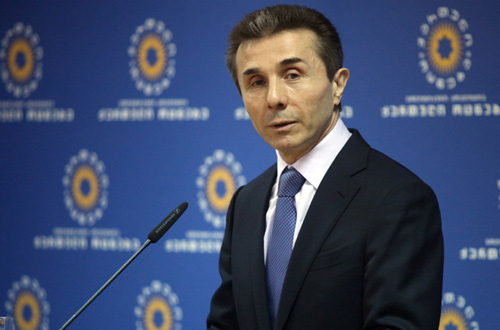 Bidzina Ivanishvili speaks with reporters in the office of his opposition coalition Georgian Dream on April 5. Photo: InterPressNews
A day after being refused in citizenship through naturalization by the Civil Registry Agency, Bidzina Ivanishvili, leader of an opposition Georgian Dream coalition, said he was still confident that he would regain his Georgian passport.
"On April 21 I, as a citizen of Georgia, will establish a new political party Georgian Dream-Democratic Georgia," said Ivanishvili, who now as a foreign citizen has no right to either form a party or to run in the parliamentary elections scheduled for October.
He told journalists on April 5, that his opposition coalition, Georgian Dream, which now unites his team plus three opposition parties, would formally establish an electoral bloc under the name Ivanishvili-Georgian Dream.
"I will be the leader of this bloc and a candidate for prime minister's post [nominated] by this bloc," said Ivanishvili, who refused to answer journalists' questions.
He said the Civil Registry Agency's decision was so "feeble" and "senseless" that it was not even worth of commenting.
"We will boost the Georgian people's spirit; I have a concrete plan," he said. "We will gradually force the authorities to back-off from violence… I promise that we will bring on a situation by this fall wherein the Georgians won't have any fear and they will freely turn out [at polling stations] and make right choice and we will say no to oppressor Saakashvili," Ivanishvili said.
The Civil Registry Agency of the Ministry of Justice said on April 4, that Ivanishvili was not eligible to obtain Georgian citizenship through naturalization process, which he was requesting since January 5; the agency said, Ivanishvili, as a French national, should instead seek regaining his Georgian passport through dual-citizenship process.
Hypothetically President Saakashvili can still overrule a decision of the Civil Registry Agency, whose April 4 ruling is actually a recommendation and it is the President who has final say on the issue of citizenship.
Ivanishvili's one of the lawyers, Archil Kbilashvili, said President Saakashvili's deadline to give his final decision expires on April 5 – three months after Ivanishvili applied for citizenship through naturalization.
"We are waiting," said Kbilashvili, who refused to discuss details of what further legal actions Ivanishvili's team may undertake if the President shares the decision of the Civil Registry Agency.
Ivanishvili also said on April 5, that decision of the Civil Registry Agency showed President Saakashvili's "fear" towards a strong political opponent.
"Saakashvili is so afraid, he is in such agony, that he is not even capable to look several days ahead, otherwise he could have seen very well an outrage of the Georgian and international community towards his illegal actions," Ivanishvili said.
In his comments Ivanishvili hinted that after coming into politics he was trying to provoke President Saakashvili on such actions that would have demonstrated, as Ivanishvili put it, "his real face."
"I've been trying in recent six months to act in a way, to address him in a way that would have maximally promptly and well demonstrated his real face… I think we have managed it very well and I think no one in Georgia has an illusion about who this man [Saakashvili] is and about the fact that the country is ruled by a single man and everything depends on his mood," Ivanishvili said.