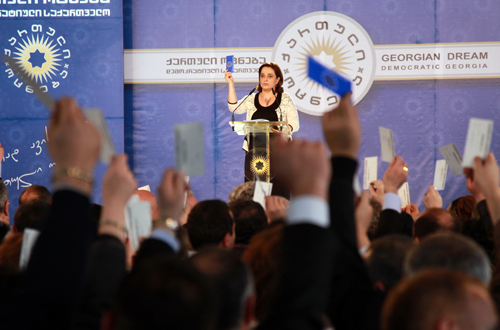 Manana Kobakhidze, a nominal chairperson of Bidzina Ivanishvili's Georgian Dream-Democratic Georgia party seen, as delegates at the party's inaugural congress in Tbilisi raise their hands to vote on April 21. Photo: Guram Muradov/Civil.ge
Billionaire opposition politician, Bidzina Ivanishvili, launched his political party, Georgian Dream–Democratic Georgia at an inaugural congress in Tbilisi on April 21.
Ivanishvili, who presented core team of his party in February, has no right to personally found or chair a political party in Georgia as he is a French citizen and planned constitutional amendment, granting him political rights without having a Georgian passport, has yet to be passed by the Parliament.
For that reason the party elected as its interim, nominal chairperson Manana Kobakhidze, a lawyer who previously served as a chair of the Tbilisi-based human rights advocacy organization Article 42 of the Constitution.
Kobakhidze will be replaced by Ivanishvili after the constitution grants the billionaire political rights in Georgia, Ivanishvili's lawyer and member of his party Archil Kbilashvili said.
In December Ivanishvili established Georgian Dream public movement, formally not a party, but which served as a platform for the billionaire's political activities; in February Ivanishvili formed a coalition with Republican, Our Georgia-Free Democrats and National Forum parties, which was this month was joined by the Industrialists party. Ivanishvili's five-party coalition plans to run as a bloc in parliamentary elections in October.
Ex-public defender Sozar Subari, who until late last year was chairman of the Georgian Party, co-founded by ex-defense minister Irakli Okruashvili, has been elected by the inaugural congress of Georgian Dream-Democratic Georgia as a member of 11-seat political council, the party's main decision-making body.
Other members of the political council are: Tedo Japaridze, Georgia's ex-foreign minister; Zurab Azmaiparashvili, a chess grandmaster; Irakli Sesiashvili, head of defense and security working group in Ivanishvili's Georgian Dream public movement; writer Guram Odisharia; former editor of daily Rezonansi newspaper Eliso Chapidze; Nodar Khaduri, Dr. of economics at the Tbilisi State University who in the past was with ex-parliamentary speaker Nino Burjanadze's party; academician Ivane Kiguradze; Gela Khvedelidze, formerly of National Forum party; Tamaz Avdaliani of Kurdish rights group and a former lawmaker Guguli Magradze.
After lengthy routine, formal procedures, required for founding a party, Ivanishvili took the floor and read out his party's declaration, reiterating the goal to come into power through elections.
He vowed to revive the country's agriculture, including through state investments and encouraging farmers' cooperatives; removing 20% income tax for those whose income amounts to minimum subsistence level; he promised "basic" health insurance for "each and every citizen", instead of insurance for "every second citizen offered by the authorities". He also said Georgia should continue its Euro-Atlantic integration, adding that "normalization" relationship with Russia was also important; he also said that Georgia should become "a predictable partner" for the international community.