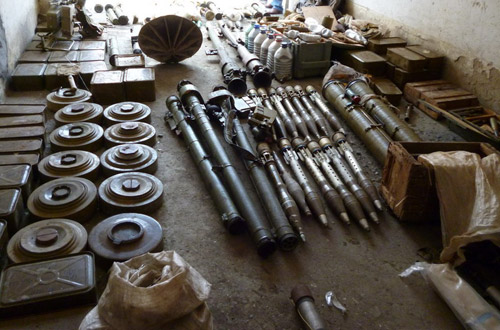 Photo from the website of the Russian National Counter-Terrorism Committee (NAK) shows part of weapons and ammunition, which it said, had been found in several arms caches in Abkhazia on May 4-5, 2012 and which allegedly were intended for carrying out terrorist attacks in Sochi in lead up to Winter Olympic Games, as well as during the games in 2014.
Tbilisi said Russia's allegation about Georgia's links with Chechen warlord's alleged terror plot in Sochi is "utterly absurd", which is part of Moscow's anti-Georgian propaganda aimed at "escalating situation in the region".
"This is utterly absurd statement, which is completely groundless; it has nothing to do with the reality," Sergi Kapanadze, the Georgian deputy foreign minister said. "It is a continuation of traditional Russian propaganda, wherein it accuses Georgia of having links with various terrorists, but never produces any evidence to substantiate [these allegations]."
The Georgian Interior Ministry said in a statement that like Russia's previous similar allegations about Tbilisi's links with Islamist insurgent groups in North Caucasus, the recent one was also "completely groundless".
"With this statement government of Russia tries to mislead international community and escalate situation in the region," the Interior Ministry said.
It said that "Russian special services are responsible for attempting to stage terrorist and subversive acts on the territory of Georgia, most of which were successfully foiled." In the most recent case, the Georgian police said it had foiled an attempt of terrorist act outside the local prosecutor's office in Zugdidi with an explosive device smuggled from breakaway Abkhazia.
"The Ministry of Internal Affairs urges government of Russia to abstain from provocative statements and assist law enforcement agencies of Georgia in investigation of terrorist acts" carried out on the territory of Georgia, the ministry said in its statement.
The Georgian Foreign Ministry also issued a written statement on May 10 saying that Russia had failed to produce any evidence to substantiate similar allegations leveled at various occasions in the past by the Russian sources.
"The Russian side has never raised this or related issue during the Geneva talks, where such issues are discussed," the Georgian Foreign Ministry said. "Not using negotiating forum by the Russian side confirms that not a single allegation is based on concrete facts and that these [allegations] only represent part of Kremlin's anti-Georgian propaganda."
It also said that unlike Russia, Georgian negotiators had been regularly raising the issue of Russian military intelligence's role in masterminding terrorist acts on the Georgian soil and in addition had handed over to Moscow "concrete evidence" and offered cooperation in the investigation.
"Russia's has never shown any interest towards such cooperation," the Georgian Foreign Ministry said.
"Adequate international reaction is important to the insinuations of this kind in order to prevent Russia's attempt to carry out destructive actions against Georgia and trigger destabilization in the Caucasus and in the entire Black Sea region," it added.