The authorities have pledged on May 13 to provide shelter to those left homeless as a result of last nights' flooding in Tbilisi, which killed five people.
A clean-up operation was underway on Sunday with works expected to continue for next several days in the most hit area, which is located in the capital city's Ortachala district.
The area, involving small streets full of small houses, many of them rundown or slum like properties, was swept through by muddy torrent, which run from hilltops down to the junction of Gorgasali, Gulia and Gulua streets (see on the Google map below).
Four of the victims of the flood, including a woman and her two young children, died after becoming trapped in a small house in that area and the fifth person, an elderly woman, was found dead in a separate location in a nearby neighborhood.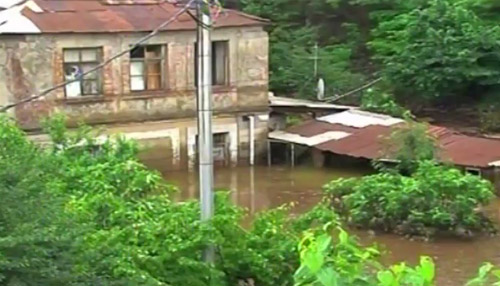 A screengrab from Georgian TV shows one of the houses in the most hit neighborhood in the Ortachala district, May 13.
Buildings were either flooded or heavily damaged and cars overturned there.
Some media sources, mainly foreign news outlets, have been reporting that the flooding occurred after heavy rain caused the Mtkvari river in Tbilisi to burst its banks.
The Mtkvari river, however, in fact has not burst its banks last night.
Failure of water collectors to handle large amount of rainfall has been cited by officials as a reason behind the flooding in many of the affected neighborhoods of the capital city.
Gigi Ugulava, Tbilisi mayor, said that in the most affected area in the Ortachala district large amount of rainfall washed mud, trees and debris, blocking collector there, which in turn caused muddy torrent to flow down the settlements. He also said that slum like, "illegal" houses there had also contributed to a failure of collector to handle water.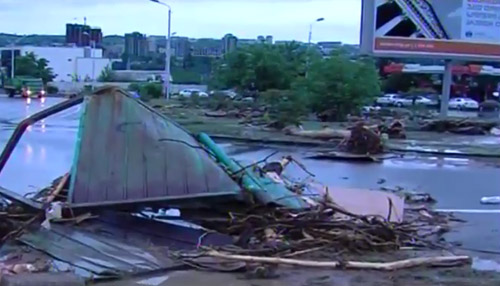 Debris washed by the flood down on the Gulua street seen on this screenbrab, May 13.
President Saakashvili, who expressed condolence over the death of five people, visited on Sunday the most affected areas and met with the local residents in Ortachala; he pledged to provide shelter to all those left without homes as a result of the flood.
The flooding and its consequences in the most affected area in Ortachala district, where some of the most hit households lived in slum like houses, prompted President Saakashvili to announce that the authorities should immediately launch tackling the issue of slums in Tbilisi.
"We should do something about it; no one should be living in such conditions, especially in the risk zones. What I was afraid most of all was flooding in the provinces this spring, but it turned out that it hit us in the very center of Tbilisi," Saakashvili said.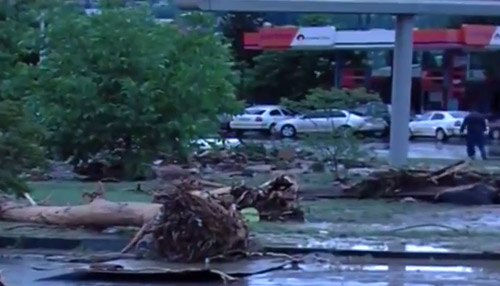 Trees washed by the flood down on the Gulua street seen on this screengrab, May 13.
A building, housing the administration of the prison system ministry, located in the Ortachala district, has also been hit by flooding. Khatuna Kalmakhelidze, the minister in charge of the penitentiary, said the flood has inflicted damage to the ministry's infrastructure, including destroying about thirty vehicles.
First floors of many houses and basements of some apartment buildings in various parts of the capital city were also flooded. Wall of a two-storey house on Zubalashvili Brothers street in Tbilisi collapsed last night as a result of flooding; no one was injured.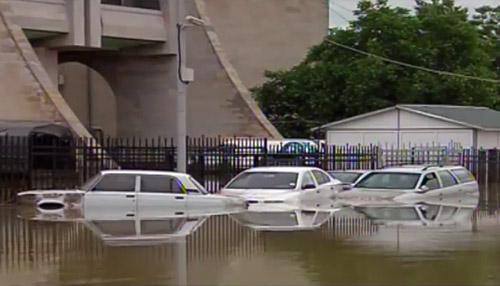 A screengrab from Georgian TV shows flooded area on the Gulua street in Ortachala district of Tbilisi, May 13.
Overnight flooding was also reported in several regions of eastern Georgia. Flooding hit Dusheti of Mtskheta-Mtianeti region, about 55 kilometers north of Tbilisi, as well as Lagodekhi and Akhmeta districts in Kakheti region, where houses have been flooded, farmland and domestic animals washed away in several villages.
Heavy rain in the capital city started at about 10pm local time on Saturday and lasted for about three hours. Amount of rainfall in that period of time reached 93 millimeters, according to the state agency of weather monitoring and forecast. Last time such amount of rainfall in Tbilisi was reported in 2009.
The authorities said the damage was quite substantial, but an exact estimation has yet to be made.