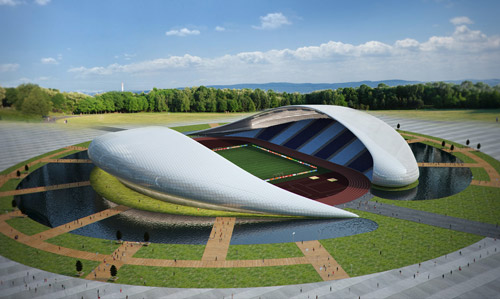 According to the Georgian Ministry for Sports and Youth Affairs this is "a tentative model" of a planned new stadium in Black Sea resort of Batumi.
Georgia has submitted on May 14 to UEFA a formal expression of interest to host Euro 2020, Georgian Minister of Sports Lado Vardzelashvili and president of the Georgian Football Federation Zviad Sichinava said on Tuesday.
Turkey made a formal bid to host UEFA European Football Championship in 2020 and it was reported on May 15, that Scotland, Wales and the Republic of Ireland have also an intention to bid.
The European football governing body, UEFA , has a deadline of midnight on Tuesday night for declarations of interest.
In his address to the Azerbaijani parliament on March 7, President Saakashvili announced that Georgia and Azerbaijan had agreed to make a joint bid to host Euro 2020. But some Azerbaijani officials said at the time that the issue was not decided, because Baku was focused on its bid to host 2020 summer Olympics.
"Azerbaijan has made a bid to host the [2020] Olympics… So Georgia will continue bidding for Euro 2020 independently," Lado Vardzelashvili, the Georgian minister of sports, said at a news conference on May 15.
He said that Georgia was already taking efforts to meet the UEFA criteria, including in terms of stadiums.
Vardzelashvili said that construction of "ultra-modern stadium" will start this year in Black Sea resort of Batumi. Apart of Batumi, he said, Georgia was planning to build new stadiums in Gori, Zugdidi, as well as in the Guria region.
A major overhaul of stadiums in Tbilisi and the country's second largest city of Kutaisi is also planned, he said.
Georgia's largest stadium, the Boris Paichadze National Stadium, has the capacity of about 55,000 seats and another large football stadium in Tbilisi, the Mikheil Meskhi Stadium, has the capacity of about 25,000. Kutaisi stadium's capacity is 18,000.
According to Euro 2020 stadium requirements, a host nation should have at least two stadiums with the capacity of 50,000 seats; three stadiums with 40,000 seats and four stadiums with 30,000 seats.
"We are ready to consider all requirements and recommendations of UEFA which are necessary for the organization of such a big event," reads the May 14 letter of the Georgian Football Federation, sent to the UEFA General Secretary Gianni Infantino.
Poland and Ukraine will host the European football championship this year and EURO 2016 will be hosted by France. The host of Euro 2020 is expected to be announced in late 2013 or early 2014.