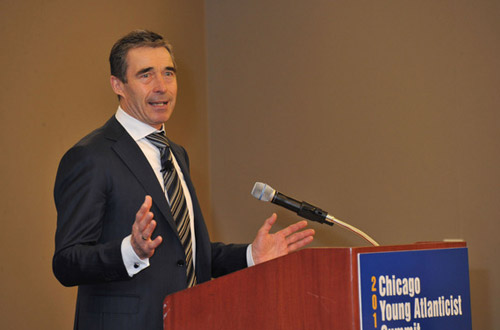 NATO Secretary General addresses Young Atlanticist summit in Chicago, May 19. Photo: NATO
How the parliamentary elections this October will be held will be "very important" for Georgia's NATO aspiration, Anders Fogh Rasmussen, the NATO Secretary General, told Young Atlanticist Summit in Chicago on May 19.
Asked about what was the most challenging issue for Georgia on its path towards NATO membership - territorial integrity or democratic reforms and about NATO's enlargement in general, Rasmussen responded that the Chicago summit would reaffirm NATO's open door policy.
"Of course we also have to make sure that countries that join our alliance can actually fulfill the criteria for becoming fully-fledged members and we are assisting the aspirant countries in that respect; we help them to carry through the necessary reforms and that brings me to Georgia question,"
"No doubt that this summit will send encouraging messages to Georgia, because Georgia has made a remarkable progress when it comes to reforms," Rasmussen said and added that the Chicago summit would reaffirm 2008 Bucharest summit decision that Georgia would join the NATO.
"But we would also like to make it very visible that we appreciate the progress Georgia has made and actually Georgia will be present at three very important events at this summit," Rasmussen said, referring to ISAF meeting; meeting of NATO and its 13 partner states and foreign ministerial meeting between NATO and four aspirant states, also including Montenegro, Macedonia and Bosnia and Herzegovina.
"So Georgia will be present in a very visible way among our co-partners,"
"I think election this fall will be very important and how they are conducted will be observed with great interest," Rasmussen said, describing it as the "core issue."