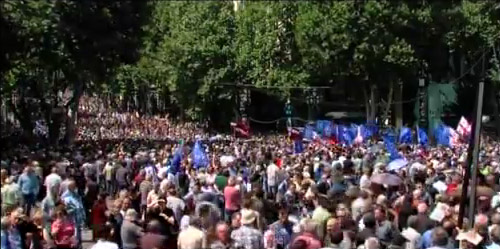 Screen grab from Maestro TV showing Georgian Dream supporters on the Freedom Square ahead of launch of the rally, marking Bidzina Ivanishvili-led opposition coalition's campaign ahead of the October parliamentary elections.
Bidzina Ivanishvili-led Georgian Dream opposition coalition marks a formal launch of its election campaign with a rally on Freedom Square in Tbilisi center on May 27.
Activists and supporters of the coalition started gathering at three separate locations in Tbilisi – Park of Vake; Boris Paichadze Stadium and Avlabari at 1pm and are now marching towards the Freedom Square where a stage has been installed for the rally, which is planned to start at 3pm local time.
Ivanishvili said that he would address the rally and lay out some of the details of the Georgian Dream's campaign plan.
Meanwhile President Saakashvili, who met with a group of entrepreneurs on May 27, said there always would be "several tens of thousands of people… dissatisfied" with reforms, including those former policemen and corrupt officials sacked after the Rose Revolution, ready to take part in any anti-government protest rally.
Ivanishvili said on May 24 that the rally should serve as a show of force which would help to ease victory in the parliamentary elections.
Tbilisi-based Maestro TV, Kavkasia TV and Channel 9 (the latter owned by Ivanishvili's wife) provide live coverage of the event.
Follow on Storify how social media users react on ongoing rally.