Article by European Commissioner for Enlargement and European Neighbourhood Policy Stefan Füle for the Georgian press. He is visiting Georgia on July 10-11 to participate in the international conference Georgia's European Way – The EU and Its European Neighbours, organized by the office of the Georgian State Minister of European and Euro-Atlantic Integration.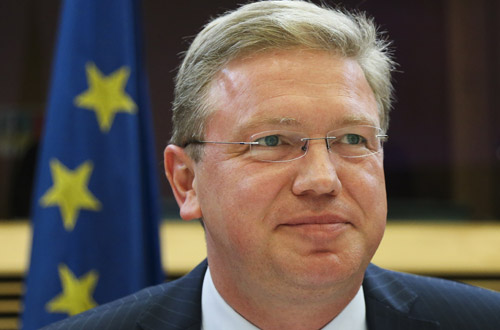 European Commissioner Stefan Füle, May, 2012. Photo: Photo: European Commission Audiovisual Services
In May 2009, the European Union launched the Eastern Partnership - together with Armenia, Azerbaijan, Belarus, Georgia, the Republic of Moldova and Ukraine – with the ambitious aim of promoting political association and further economic integration between the European Union and the six partner countries. Since its launch, the Eastern Partnership has proven its value and its continuing relevance by helping partners in their transition towards democracy and market-oriented economies and by providing support to their reform processes.
Our partners are at very different stages on the difficult road of transformation towards modern, democratic states. They also differ in determination in achieving this goal. Nevertheless, the goal itself remains clear.
How are we providing this encouragement to reform?
We are negotiating Association Agreements with partners including Deep and Comprehensive Free Trade Areas (DCFTAs) which can open the door to the EU's internal market of 500 million consumers. Moving from markets to mobility, the EU also offers partners the perspective of greater mobility of citizens between partner countries and the European Union by gradually moving towards visa free regimes. This matters because greater interpersonal contact and the increased exchange of ideas between citizens can be an invaluable asset. The overall vision is of a common area where there is close political cooperation based on shared values and deep economic integration. It is an ambitious vision that will require sustained reform efforts of partners as well as a strong commitment from the EU. At the same time, the vision is flexible leaving all doors open for the future relationship.
What has been achieved so far?
We have made considerable progress in Association Agreement negotiations with five of our six partners. Earlier this year, the EU-Ukraine Association Agreement including a DCFTA was initialed and the DCFTA negotiations with the Republic of Moldova, Georgia and Armenia were launched. On mobility, we are making progress towards visa liberalization. We launched a visa dialogue with Georgia in June and are moving towards drawing up a Visa Liberalisation Action Plan. The multilateral track of the Eastern Partnership is also in place, providing a forum to exchange best practices on approximation to EU norms and standards.
We have also created our Partnership in a way that it reaches out beyond governments so as to involve civil society as well as other key actors, including national Parliaments, regional and local authorities and the business community.
To underpin the reform efforts undertaken by partner countries, significant funding is being provided by the EU. For the period of 2010-13, some € 1.9 billion for bilateral and regional cooperation – including € 350 million of fresh resources – are available.
Our enhanced cooperation in the Eastern Partnership is based on the "more for more" principle: more support from the European Union in return for more progress towards democratic reform. The new EaPIC (Eastern Partnership Integration and Cooperation) programme, recently launched by the European Commission, will translate the principle of "more for more" into concrete funding opportunities for Eastern Partners. EaPIC is open to all countries in the Eastern Partnership but will be used selectively. The EaPIC programme has a total budget € 130 million, over the years 2012-2013.
As for Georgia, the "more for more" principle recognizes the government's good progress in reforms and good governance. In concrete terms, it will translate into an additional financial allocation of € 22 million for the year 2012. Provided that further progress is made, in particular by ensuring transparent and fair elections this autumn, "more for more" for Georgia will again be considered for 2013.
What are the joint plans ahead?
On 15 May a Joint Communication presenting a Roadmap for the Eastern Partnership was adopted by the European Commission and the High Representative of the Union for Foreign Affairs and Security. It is intended to guide and monitor the activities of the Partnership until the next Summit in Vilnius in November 2013. We are now looking forward to the Eastern Partnership Foreign Ministers meeting later this month where we hope that, together, Foreign Ministers of the EU and partner countries will agree that the Roadmap constitutes our common instrument for driving forward our Partnership agenda.
The Eastern Partnership Roadmap is a public document which means that Civil society can monitor how we, in the EU and partner countries, implement our respective parts of the deal. The Civil Society Forum and its national Platforms are very active in this respect, particularly in Georgia.
Finally, let me turn to the specific situation of Georgia.
Democracy really matters in European integration. When Catherine Ashton and I met President Saakashvili recently, we welcomed recent reform achievements in Georgia, and in particular congratulated the President on the good progress of Association Agreement negotiations.
However, we also underlined the need to keep up momentum by consolidating democracy and by ensuring an inclusive approach to national development in Georgia. That is why we attach so much importance to Georgia's parliamentary elections in October – we want the electoral process to meet international democratic standards, but also to be a token of "deep democracy" by ensuring access to the media for all candidates, and guaranteeing freedom of the press and freedom of assembly, creating an environment fit for fighting on the issues, not on processes. I take this opportunity to encourage all political forces in Georgia to respect the electoral process. I am convinced that these elections will be first of all about political programmes and ideas designed and promoted for the benefit of all citizens of Georgia.
With a solid democratic foundation, Georgia has every chance to accelerate its progress towards an association which offers long-term stability and prosperity.