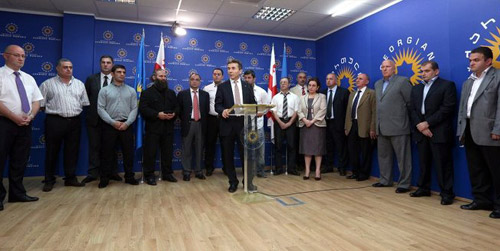 Leader of Georgian Dream coalition, Bidzina Ivanishvili, speaking with journalists while presenting majoritarian MP candidates on July 12. Ivanishvili's press office photo
Bidzina Ivanishvili, leader of the opposition coalition Georgian Dream, named on Thursday his coalition's majoritarian candidates for 17 single-mandate constituencies and said that other candidates, including for Tbilisi's ten constituencies, would be named next week.
So far the Georgian Dream has named candidates for 36 out of 73 single-mandate constituencies with most of them representing Ivanishvili's party. He said on July 12, that there was an agreement within the coalition that majority, "no less than 55%" of candidates should be from his party.
Among the candidates named on July 12 is Manana Kobakhidze, chairperson of Ivanishvili's party Georgian Dream-Democratic Georgia, who will run in Ivanishvili's native Sachkhere constituency in Imereti region.
Paata Zakareishvili of the Republican Party will run in Tskaltubo, also in Imereti region. A professor from the Kutaisi university Omar Nishnianidze will run in Terjola and a professor from the Georgian Technical University Goderdzi Tkeshelashvili in Vani single-mandate constituency.
Ivanishvili named majoritarian MP candidates for some other single-mandate constituencies for Imereti region during a campaign rally in Kutaisi in June.
On Thursday the coalition has also named majoritarian MP candidates for four out of six single-mandate constituencies of Samtskhe-Javakheti. A former head of local administration of Borjomi, Gedevan Popkhadze of Our Georgia-Free Democrats, will run in this resort town, known for its mineral waters.
Bidzina Gujabidze of Conservative Party has been named as a candidate for Adigeni constituency; Temur Maisuradze of the National Forum will run in Aspindza. Guram Kutaladze will run in Akhaltsikhe. The coalition has yet to name its candidates in Ninotsminda and Akhalkalaki single-mandate constituencies of Samtskhe-Javakheti region.
In Kakheti region the Georgian Dream named candidates in five out of eight single-mandate constituencies. Luka Kurtanidze, a double world champion in freestyle wrestling, will run in Lagodekhi. Kurtanidze was previously affiliated with ex-parliamentary speaker Nino Burjanadze's party.
Zurab Zviadauri, 2004 Olympic champion in judo, will run in Akhmeta constituency. Also a judoist Davit Kevkhishvili will run in Kvareli. Gela Gelashvili, whom Ivanishvili described as a businessman will run in Signagi.
Alexander Tamazashvili will run in Dedoplistskaro; he is a son of former police chief of Kakheti region, Tamaz Tamazashvili, who was sentenced to three and a half years of prison term for charges related to illegal possession and carrying of firearms. Ivanishvili says that Tamazashvili, a relative of Ivanishvili's close aide, is "a political prisoner".

The Georgian Dream also named candidates for two out of eight single-mandate constituencies in Samegrelo region; Giga Bukia of Conservative Party, a former lawmaker, will run in Khobi; Levan Izoria, former rector of the police academy, now a member of Our Georgia-Free Democrats party, was named as a candidate in Chkhorotsku.
Actor Tamaz (Gia) Japaridze will run in Oni single-mandate constituency of Racha region. Victor Japaridze was named in Mestia; he was a majoritarian MP from the same single-mandate constituency in 2004-2008.
The coalition plans to name its majoritarian MP candidates in Shida Kartli region during its campaign rally in Gori on July 15.