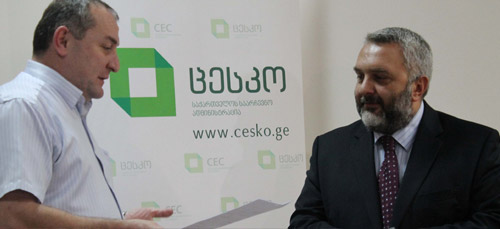 Chairman of Voters' List Verification Commission Mamuka Katsitadze (left) and Chairman of Central Election Commission Zurab Kharatishvili (right), August 1. Photo: VLVC website.
Voters' list, verified by a state-funded commission and handed over to the Central Election Commission on August 1, two month before the parliamentary elections, includes total of 3,385,844 citizens.
Mamuka Katsitadze of the opposition New Rights Party, who is a chairman of Voters' List Verification Commission (VLVC), said on August 1 that this voters' list is not final and may further be corrected.
According to the election code further corrections can be made in the voters' list and the final deadline for that is two weeks before the election, which has been set for October 1. Election administration should notify VLVC about any planned changes in the voters' list.
Katsitadze said on August 1 that the verified list includes 310,113 voters who are currently abroad.
The list also includes 52, 648 voters who are not registered at any specific address.
Katsitadze said that it was not possible to find out exact addresses of 42,390 voters; he said that the right of these voters to cast ballot was remaining under the question mark.
Number of so called deregistered voters, according to Katsitadze, stands at 188,995; these are those voters who previously were incorrectly registered to specific addresses and who were then deregistered from those addresses.
According to VLVC over 600,000 voters are "in internal migration" – that's the category of voters whose actual place of residence is different from the address on which they are formally registered; in order to cast ballot these voters should turn out at polling stations which are assigned to the address of their registration and not to the polling station which is located at their actual place of residence.
Number of those voters who will cast ballot at special polling stations – these are military servicemen; policemen and other employees of law enforcement agencies – stands at 55,277.
There are total of 207,055 voters in the list who are registered as internally displaced persons.
For the first time in Georgia convicts serving a prison term for "less grave offences" will be able to cast ballot in the elections, according to the election code amended last year.
As of today there are total of 1,295 convicts who will be eligible to vote in the October 1 parliamentary elections, according to VLVC.
Number of voters, who were eligible to cast ballot in the May 30, 2010 local elections, stood at 3,544,770.