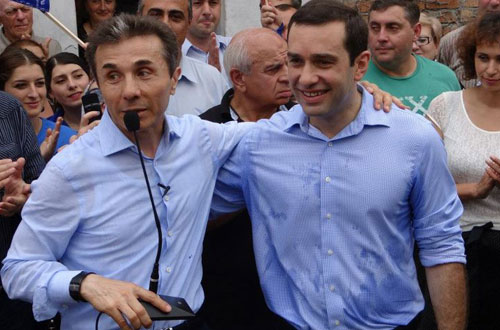 Bidzina Ivanishvili (left) and Irakli Alasania (right) during a meeting with supporters in Zugdidi, August 15. Ivanishvili's press office photo
Irakli Alasania, leader of Our Georgia-Free Democrats, part of Bidzina Ivanishvili-led Georgian Dream opposition coalition, will run for parliamentary seat in the October 1 elections as a majoritarian candidate in Zugdidi single-mandate constituency in Samegrelo region.
Alasania, who is in charge of the Georgian Dream's election campaigning in Samegrelo region, was named as a majoritarian MP candidate on August 15 by Ivanishvili during his visit to Zugdidi, town at the administrative boundary line with breakaway Abkhazia.
The ruling party, United National Movement (UNM), has yet to name its candidate in Zugdidi. There has been media speculation recently that chief prosecutor of Samegrelo region Roland Akhalaia, who is father of interior minister Bacho Akhalaia and deputy defense minister Data Akhalaia, might be the ruling party's candidate. According to UNM, discussions are still ongoing within the party about Zugdidi majoritarian MP candidate and no decision is yet made.
Meanwhile on August 14 the Ivanishvili-led coalition has appealed the Central Election Commission for registration of an election bloc uniting six parties within the coalition, who will run with a joint party list in the proportional contest. The bloc, under the name Bidzina Ivanishvili-Georgian Dream, will unite: Ivanishvili's party Georgian Dream-Democratic Georgia; Our Georgia-Free Democrats; Republican Party; National Forum; Conservative Party and Industrialists.