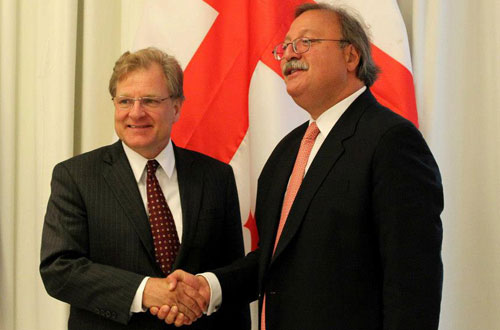 Ambassador Richard Norland (left) and Georgia's Foreign Minister Grigol Vashadze (right), September 5. U.S. Embassy Photo
Richard Norland, who was confirmed by the Senate as new U.S. ambassador to Georgia in March, arrived in Tbilisi on September 5 and presented his credentials to the Georgian Foreign Minister.
Norland, a 32-year foreign service veteran, briefly served in Georgia in early 1990s in a capacity of the U.S. representative and acting head of the OSCE mission.
Before serving as U.S. ambassador in Uzbekistan in 2007-2010, he was deputy chief of mission at the U.S. embassy in Kabul for two years.
Ambassador Norland was international affairs advisor and deputy commandant at the National War College, Washington, D.C., when President Obama nominated him as the United State's seventh ambassador to Georgia in February.