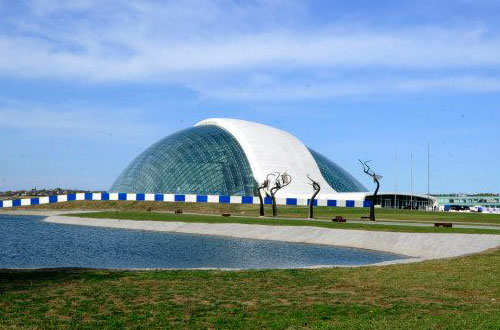 Parliament building in Kutaisi.
Georgia's new Finance Minister, Nodar Khaduri, said on October 31, that over GEL 340 million (about USD 204.8 million) had been spent on construction of new building for the Parliament in country's second largest city of Kutaisi.
In May, 2012, when the construction was still ongoing, Dimitri Gvindadze, then-finance minister, said GEL 133.7 million was spent by that time.
New Finance Minister, Nodar Khaduri, said that "lots of expenses" had been made in recent years from the central and local budgets on such projects, whose rationality on the one hand was questionable and whose costs on the other hand could have been overblown.
"For example, Parliament's new building in Kutaisi, which cost over GEL 340 million," Khaduri said, adding that the building right now "is actually useless for work" except of its chamber where parliamentary sittings are held.
"We should study how much construction of this building actually cost and why it is of so poor quality while so much money has been paid, to say nothing of the fact that it [glass-dome Parliament building] leaks even in a light rain," Khaduri said.