Interior Ministry releases 'extracts from witness testimonies';
Accounts of presidential protocol service officials mainly match those of passport control officer;
Merabishvili gave investigators different account of the events;
Interior Ministry says Merabishvili will be questioned again;
Interior Minister: 'It is shame Merabishvili refuses to admit using fake passport'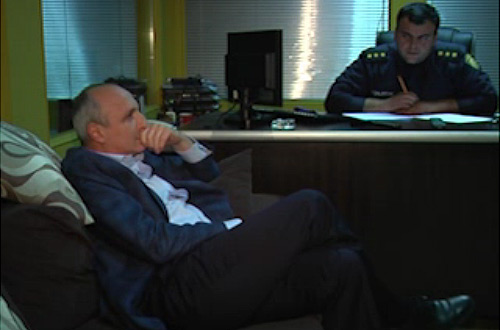 A grab from the Interior Ministry's video footage showing UNM secretary general and former interior minister and ex-prime minister Vano Merabishvili during a questioning by uniformed policemen on December 1. Merabishvili asked the investigators to stop video recording of the questioning.
The Interior Ministry said it was continuing investigation into the alleged case of use of fake passport by former interior minister and ex-PM Vano Merabishvili, who was questioned for less than two hours on December 1.
The Interior Ministry said that although Merabishvili arrived for questioning, he "actually did not cooperate with the investigation."
"He avoided [answering] concrete questions. His testimony was extremely superficial and contradictory. He tried to deny incontrovertibly confirmed facts and for that reason the investigation is continuing and all the persons involved in the case will be questioned again… including the former Prime Minister Merabishvili," the Interior Ministry said.
The police released a three-minute long video showing once powerful interior minister in a room with an investigator. In the video Merabishvili smoking a cigarette is heard telling police officer, who questioned him: "I do not want my questioning to be recorded… I have this right… I am ready to give a testimony without a camera."
On December 2 the Interior Ministry released, what it said was, "extracts from testimonies of witnesses", including the one of Merabishvili himself, who denies using the fake passport.
Other witnesses, whose testimonies were made public, include head of the presidential protocol service; an employee of the same service and a passport control officer from the Tbilisi international airport, who is the Interior Ministry employee.
The parts of these testimonies, which were released by the Interior Ministry, mainly coincide with each other. Only Merabishvili's testimony gives a different version of events.
The Interior Ministry is investigating what it calls the case of use of "a forged document as well as the attempt of illicit crossing of the state border" by Merabishvili; no formal charges have yet been filed against Merabishvili.
On November 30 Merabishvili accompanied President Saakashvili in Yerevan to participate in a summit of European People's Party (EPP) Eastern Partnership, where the delegation, among others, also met with President of the European Commission José Manuel Barroso.
The United National Movement (UNM), which is chaired by President Saakashvili, is an observer member of EPP. The delegation and Merabishvili, who is the secretary general of UNM party, returned back to Tbilisi late on the same day.
According to the Interior Ministry, after the arrival of the delegation in the Tbilisi airport's VIP hall on November 30, an employee of the presidential protocol service submitted to passport control officer a passport; the officer, however, detected that although Merabishvili's photo was attached to the passport, it bore the name "Levan Maisuradze". The Interior Ministry said that in order not to cause problems to the delegation and to the visit itself, no legal proceedings were immediately launched and he was allowed to leave the country after presenting his authentic passport.
On December 2, citing high public interest towards the case, the Interior Ministry released "extracts" from witness testimonies.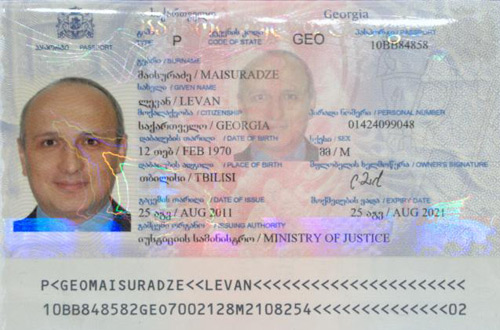 The Interior Ministry released this photo of what it says is a fake passport which former PM and ex-interior minister Vano Merabishvili allegedly tried to use for visiting Yerevan on November 30.
Vazha Gogadze, a passport control officer at the Tbilisi airport, says in his testimony, as released by the Interior Ministry, that one of the passports given to him by an employee of the presidential protocol service, had a photo of Vano Merabishvili, but it bore a different name – "Levan Maisuradze".
"I told representative of the protocol service, who submitted this passport, that I would not have allowed holder of this passport to cross the state border… I asked the [protocol service] representative who was the holder of this passport and he answered that it belonged to Merabishvili," reads a testimony of passport control officer.
It also reads that the officer gave the passport back to the protocol service employee and asked him to look at the photo in it and then check the name indicated in the passport.
"After checking… he took the passport and gave it to the head of the presidential protocol service Zurab Darchiashvili," the same testimony reads. "I saw that former interior minister Merabishvili was standing next two Darchiashvili. They both looked through the passport and Merabishvili said loudly: 'No problem, let's not pass this passport; that [another] passport will be brought in here soon'. In about 3-5 minutes Darchiashvili submitted Georgian passport issued for Merabishvili… I saw how Merabishvili took the passport issued for 'Levan Maisuradze' from Darchiashvili and put it into his jacket's pocket."
Head of the presidential protocol service Zurab Darchiashvili told investigators, according to his testimony as released by the Interior Ministry, that the delegation, which was heading to Yerevan, gathered in the Tbilisi airport's VIP hall at about 3:30pm on November 30.
"Merabishvili gave me the passport through which he was intending to cross the border… I gave Merabishvili's passport to my employee Giorgi Giorgadze… who took this passport at the border crossing point and submitted it to passport control officer. Few minutes later Giorgadze told me that there was ambiguity about Merabishvili's passport and explained that this passport was not of Merabishvili… I took the passport and checked the name in it, which was not the one of Merabishvili… I did not look thoroughly through the passport… and I do not know whose photo was affixed to the passport," head of the presidential protocol service Darchiashvili says according to his testimony.
"I gave this passport back to Merabishvili, who explained that it was really a different passport and he told me that his passport would have been brought in soon. In about 5-7 minutes a man, whom I do not know, brought Merabishvili's passport," reads the testimony of Darchiashvili.
On December 1, a day before his testimony was released, Darchiashvili made a public statement saying: "It is surprising that… such an allegation has been voiced in connection to former Prime Minister" Vano Merabishvili.

According to a testimony by presidential protocol service employee, Giorgi Giorgadze, he saw Merabishvili giving to head of the protocol service Zurab Darchiashvili a passport in the airport's VIP hall.
"Darchiashvili then gave this passport to me… Without even looking at the passport, I submitted it to a passport control officer… Few minutes later the officer told me that the passport submitted by me did not belong to Merabishvili and he would not allow Merabishvili to cross the state border with this passport. I told Zurab Darchiashvili that there were problems about Merabishvili's passport… Darchiashvili took the passport from border officer and in several minutes he brought Merabishvili's passport through which Merabishvili passed through the passport control and he departed together with President Saakashvili and other members of the delegation to Yerevan," Giorgadze says, according to the testimony.

The Interior Ministry also released a brief extract from Merabishvili's testimony, according to which the UNM secretary general says: "In the airport's VIP hall I gave my passport to delegation's assistant… A photo of mine was affixed to a biometric page of the passport and it bore my name – Vano Merabishvili with date of birth 15.04.1968 and a relevant personal number."
"On your question whether [the delegation's] assistant gave me back the passport, which I submitted to him, and whether he told me anything or not, I will answer the following: as far as I remember I gave the passport to the assistant once and he did not tell me anything about the passport and I also did not notice any incident… I do not know Levan Maisuradze and I have not seen any of his document and I have had none either," according to the testimony by Merabishvili as released by the Interior Ministry.
The Interior Ministry said that "with a purpose of hampering" inquiry into this case, Merabishvili "has wittingly provided the investigation with false information, which substantively contradicts evidence obtained into this case, as well as incontrovertibly confirmed facts and testimonies by other witnesses."
Interior Minister Irakli Garibashvili said on December 2, that it was "shameful" that Merabishvili had no "enough courage" to admit that he had the fake passport.
"It's shameful that former interior minister and former prime minister does not admit the fact... This fact has been detected in the airport by a patrol officer and it has been confirmed by an employee of the [presidential] protocol," Garibashvili said.
"I am personally ashamed that former interior minister does not admit it. He simply lies when saying that it has not happened. I think that any person and especially former interior minister and ex-prime minister should have enough courage to admit it. Investigation will of course continue and investigation will establish matter of facts into this case," the Interior Minister said.
In a written statement on December 1 President Saakashvili expressed hope that hope that "this absurd investigation against Vano Merabishvili will be ceased."
"The idea itself that Vano Merabishvili could have used fake passport during an official visit is so absurd that it's difficult to even comment on it," Saakashvili said, adding that "only very reckless people" could have come up with such allegation.