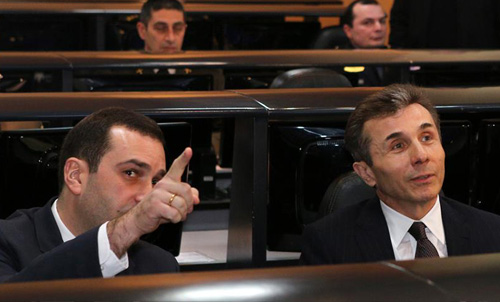 Defense Minister Irakli Alasania (left) and PM Bidzina Ivanishvili (right) at MoD's command center, February 6. Photo: PM's press office
Georgia plans to have "fully professional army by 2016," PM Bidzina Ivanishvili said on February 6.
"This is something that should be welcomed very much; it will stress that the country is moving towards Europe and getting closer to NATO standards," he said.
Defense Minister Irakli Alasania first announced about the plan to abandon conscription system and gradually move to fully professional army in a course of next four years in early January.
PM Ivanishvili made the remarks while speaking with journalists after visiting the Ministry of Defense on February 6.
He spoke with Georgian officers in Afghanistan via live video feed from MoD's command center and thanked them for their service in Afghanistan; Ivanishvili said that Georgia was "proud" of being part of the ISAF operation.
The PM hailed Defense Minister Irakli Alasania for increasing salaries of Georgian soldiers serving in Afghanistan.
He also said that there were "problems in infrastructure". "Irakli Alasania inherited not so favorable situation in this regard," Ivanishvili said, adding that conditions were dire in some army barracks. He said that the government would try to allocate additional funds to improve conditions.