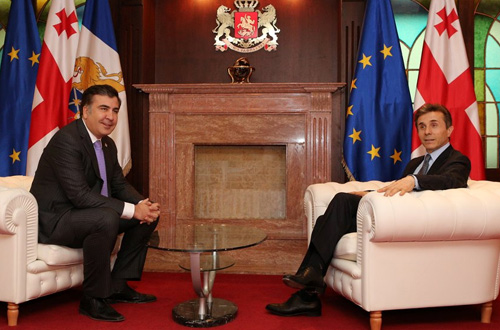 President Saakashvili (left) and PM Ivanishvili (right) during a meeting on March 4. Photo: PM's press office
President Saakashvili and PM Ivanishvili are holding talks, which started at 3pm local time on Monday.

The meeting is taking place in a government building, known as the state chancellery, which houses PM's office, the National Security Council, as well as offices of several state ministries. The building also houses the office of the President, which has not been used by Saakashvili since he moved to the presidential palace in 2009; the meeting between Saakashvili and Ivanishvili is taking place in that presidential office.
In a brief and fragmented footage, released by PM's press office showing the start of the meeting, the two are heard apparently discussing media availability after the meeting.
It has been reported that unlike after their meeting in October, Saakashvili and Ivanishvili are not expected to appear jointly before the press for a statement and are expected to make statements separately after the meeting.