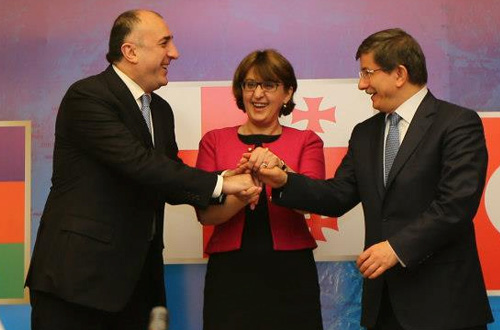 From left to right: Foreign Minister of Azerbaijan Elmar Mammadyarov; Foreign Minister of Georgia Maia Panjikidze and Foreign Minister of Turkey Ahmet Davutoğlu during a meeting in Batumi, March 28. Photo: Turkish Foreign Ministry.
Foreign Ministers of Azerbaijan, Georgia and Turkey met in Georgia's Black Sea resort town of Batumi, close to the Turkish border, on March 28 and pledged to further deepen cooperation between the three countries.
During the trilateral ministerial meeting, which was second of this type after the first one in Trabzon nine months ago, the foreign ministers signed the sectoral cooperation action plan for 2013-2015, laying out measures for deepening ties in various fields ranging from economy, energy and environmental protection to culture.
"Georgia's close and friendly relations with Turkey and Azerbaijan are based on strategic partnership," Maia Panjikidze, the Georgian Foreign Minister, said at a joint news conference after the trilateral meeting.
"This is a very good example of fruitful cooperation, which we can make in the region," Azerbaijani Foreign Minister Elmar Mammadyarov said.
"That's also probably the message to our neighbors in Armenia that it would be better for them to join the club rather than getting out of the club," Mammadyarov said, adding that resolving of the conflicts would help to promote prosperity in the region.
"It is unique platform of cooperation," Turkish Foreign Minister Ahmet Davutoğlu said.
He said that the foreign ministers of three countries "achieved a lot" during the meeting in Batumi, including "a comprehensive" action plan for sectoral cooperation.
He expressed hope that this cooperation would further strengthen not only between these three countries, but also become a platform for cooperation for others in the region, "because objective of this platform is to create zone of prosperity and harmony", based on mutual respect and respect of territorial integrity.
The Turkish Foreign Minister said that during the meeting the three ministers also discussed issues related to mutual support in various international organizations. He said that Ankara would continue supporting "Euro-Atlantic aspirations of Georgia and Azerbaijan."
A joint communiqué of the three foreign ministers, adopted upon conclusion of the meeting, notes importance of Baku-Tbilisi-Kars railway project, which is currently under construction, saying that this regional rail link, connecting Azerbaijan and Turkey via Georgia, will give the region "a new dimension of international importance", turning it into "a key component of the transport corridor, connecting Europe and Asia."
The joint communiqué also says that the three ministers underscored "the necessity of timely conclusion of construction works" in order to put this railway link into service as a "central route, the shortest and the most effective route for reverse transit of the ISAF forces and cargoes from Afghanistan in 2014."
The ministers agreed to hold third trilateral foreign ministerial meeting in the second half of this year in Azerbaijan. Meanwhile, in May the third Azerbaijani-Georgian-Turkish business forum will be held in Qabala, Azerbaijan.
In Batumi the Turkish Foreign Minister also held bilateral meeting with his Azerbaijani counterpart and also met with head of the Adjara Autonomous Republic Archil Khabadze.
Turkish Foreign Minister's Talks in Tbilisi
On his first day of the visit to Georgia on March 27, Ahmet Davutoğlu held talks in Tbilisi with his Georgian counterpart, as well as with PM Bidzina Ivanishvili; Parliamentary Chairman Davit Usupashvili and State Minister for Reintegration Paata Zakareishvili to discuss bilateral issues.
Among the issues discussed was repatriation of Meskhetians back to Georgia – survivors or descendants of a Muslim population who were deported by Joseph Stalin from southern Georgia in 1944. The issue was also discussed when Georgian PM Bidzina Ivanishvili visited Turkey in February. Georgia undertook a commitment to repatriate the Meskhetians in 1999 when it joined the Council of Europe. Georgia adopted law on Meskhetians' repatriation in 2007.
Speaking at a joint news conference after the meeting with his Turkish counterpart in Tbilisi on March 27, Georgian Foreign Minister Maia Panjikidze said that about 5,000 applications for repatriation had been received and over 800 of them were in active phase of review by the Georgian authorities. She said that the Justice Ministry was planning to initiate a draft of amendments to the law on repatriation; she did not elaborate details, but suggested that the amendments were related to easing some of the deadlines set for the repatriation.

In Tbilisi the Turkish Foreign Minister also met head of the Georgian Orthodox Church, Patriarch Ilia II and also visited a mosque in Tbilisi where he met one of the senior Muslim clerics in Georgia.
One of the issues that in recent years has been in the center of Georgian public's attention in the context of relations with Turkey was the need for restoration of medieval Orthodox churches, which are located in north-east Turkey. Over the past several years, Georgia's previous government was negotiating with Turkey a potential deal on rebuilding of a mosque in Batumi, which was known as Aziziye Mosque, and restoring several other mosques in Georgia in exchange for reconstruction of several medieval Georgian Orthodox churches in Turkey. The influential Georgian Orthodox Church was strongly against of such agreement.
Last year the proposal to rebuild the Aziziye Mosque in Batumi, which was destroyed by fire in 1940s, met a fierce opposition from some groups in Georgia; opponents claimed that this mosque, built in nineteenth century about a decade before the Ottoman Empire was forced to cede Adjara to the Russian Empire in 1878, was "a symbol" of the Ottoman rule in Adjara.
Although there were some figures within the Georgian Dream coalition who were strongly against of rebuilding Aziziye Mosque in Batumi, GD leader Bidzina Ivanishvili has never spoken against building of the mosque during his election campaign last year. He, however, was criticizing in general then government's approach to the issue, saying that it was not transparent.
After PM Ivanishvili's visit to Turkey in February, the government announced that the agreement was reached with Turkey according to which Georgian experts would be involved in the process of restoration of Georgian churches in Turkey; the government also said that a mosque would also be built in Batumi; in their remarks on the issue the PM and other government members were stressing that it would be a new mosque, not the Aziziye Mosque, and it would be built because it was needed for local Muslim Georgian community in Adjara. The Georgian Orthodox Church has so far remained silent, not voicing its position on this issue.
Speaking at a news conference on March 14, PM Ivanishvili said that new mosque in Batumi was needed for the local Muslim population and it should in no way be a source of controversy in a country with the tradition of tolerance.
He even said that he was willing to fund construction of the new mosque with his own money through his charitable foundation. "I have a huge desire to assist and to personally be involved in building of the mosque in Batumi," he said on March 14.
Asked about the issue, as well as about restoration of Georgian churches in Turkey, the Turkish Foreign Minister told journalists during his visit to Georgia, that mosques and churches were common cultural heritage; he said that the Georgian experts would be involved in restoration of the Orthodox churches in Turkey and also noted that there was a Muslim community living in Adjara, which was requesting from the authorities to built a mosque; he said that Turkey was ready to contribute and thanked the Georgian PM for his commitment to also personally contribute to this process.
After talks in Tbilisi, Foreign Minister Davutoğlu, also said that Turkey was friend to Georgia and supporter of its territorial integrity.
"Turkey has always advocated that all communities in Georgia should live in peace and brotherhood. In Turkey, there are both Georgian and Abkhaz diasporas with large populations. We have been arguing that a solution within the framework of Georgia's territorial integrity should be found through negotiations based on mutual understanding," the Turkish Foreign Minister said.